Hungry? Sure you are – or you're bound to be after a day's exploring Hawaii's Big Island! Lucky for you, there are some excellent Volcano, Hawaii restaurants, no matter what your taste!
Volcano Village may not have all the hustle and bustle of Hilo but you're not going to be bored here – and you're definitely not going to go hungry! When it comes to Volcano, Hawaii restaurants, the area offers a cornucopia of excellent choices. Whether you're looking for fine dining, cocktails, or just something to poke down your throat in a hurry, we've got you covered. Both in Volcano Village or the Park.
Volcano, Hawaii Restaurants:
Cafe' Ono at Volcano Garden Arts
19-3834 Old Volcano Rd, Volcano, HI 96785 – (808) 985-8979 – website
Cafe Ono is an award-winning restaurant serving organic and vegan quick snacks and lunches. The Cafe is attached to Volcano Garden Arts gallery. Open Tuesday to Sunday, from 11am to 3pm.
Eagle's Lighthouse
19-4005 Haunani Rd, Volcano, HI 96785 – (808) 985-8587 – website
Eagle's Lighthouse Cafe is a small, roadside, open-air counter serving breakfast and lunch just minutes from Hawaii Volcanoes National Park. The cafe's hearty sandwiches are reasonably priced and perfect for taking into the park for a picnic lunch. Open Monday through Saturday, 7am to 5pm.
Kilauea Lodge Restaurant
19-3948 Old Volcano Rd, Volcano, HI 96785 – (808) 967-7366 – website
The Kilauea Lodge Restaurant serves locally sourced breakfast, lunch, and dinner 7 days a week, plus Sunday brunch. The cozy restaurant, surrounded by tropical gardens and native forest, is very popular. Open 7:30am to 9pm.
Ohelo Cafe
19-4005 Haunani Rd, Volcano, HI 96785 – (808) 339-7865 – website
Elevated cafe fare from locally sourced ingredients in a casual setting with a full bar and indoor and outdoor seating. Open daily, 11am to 9:30pm. Closed the first Tuesday of every month.
Thai Thai Bistro & Bar
19-4084 Old Volcano Rd, Volcano, HI 96785 – (808) 967-7969 – website
Authentic Thai cuisine including noodles, stir-fry, and curry dishes as well as soups, salads and a full bar. Dine in or take out. Open 7 days a week, 11:30am to 9pm.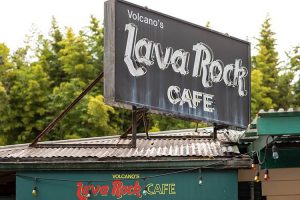 Volcano's Lava Rock Cafe
19-3972 Old Volcano Rd, Volcano, HI 96785 – (808) 967-8526 – website
Enjoy a volcano-themed, eclectic menu of locally sourced fare with something for everyone, including local Hawaiian dishes and a full bar. Live music three nights a week. Open Sunday and Monday, 7:30am to 3pm, and Tuesday through Saturday, 7:30am to 8pm.
Hawai'i Volcanoes National Park Dining:
Kilauea Military Camp
99-252 Crater Rim Drive, Volcano, HI 96785 – (808) 967-8333 – website
Kilauea Military Camp is a Department of Defense (DOD) Morale, Welfare and Recreation (MWR) facility located inside Hawaiʻi Volcanoes National Park. While the facility is primarily in place for authorized military patrons, family members and their guests, park visitors may dine here.
Dining options at Kilauea Military Camp include:
Crater Rim Cafe
A casual setting serving all-time favorites for breakfast, lunch, and dinner. Open 6:30am to 1pm, 5pm to 8pm, daily.
10-Pin Grill
10-Pin Grill has everything from burgers to pizza, to hot and cold sandwiches, dinner specials, beer and wine coolers – plus bowling! Open 7 days a week, 11am to 9:30 pm.
Lava Lounge
Drop by for a cold one (or two) and the relaxing atmosphere. Small bites, a full bar, and live music on the weekends. Open daily from 4pm.
If you were surprised to learn that there are dining options within the park, itself, you may be doubly surprised to learn that one of the most unique dining experiences available on the island is here. Dinner at the edge of a volcano …
The Rim
1 Crater Rim Drive, Pāhoa, HI 96778 – (808) 930-6910 – website
Located on the edge of the Kilauea caldera for absolutely stunning views, especially as the sun sets and the glow of the crater becomes visible. Open 7 days a week: 7am to 10am, 11am to 2pm, and 5pm to 8:30pm.
Dine In!
Each of our Volcano Heritage Cottages features a kitchen so you can also choose to dine in. View our Vacation Cottages.