A mere 30 miles from the Volcano Heritage Cottages you'll find a rare coastal experience: An expanse of shoreline that appears to have been blanketed with ground black pepper.
Welcome to the Punalu'u Black Sand Beach, one of the sites we always recommend to guests who are staying at one of our vacation rentals in Volcano, Hawai'i!
Experience Black Sand and Freshwater Springs
Punalu'u Black Sand Beach is located on the southeastern Kau coast, just past the town of Pahala. Since the ancient Hawaiians who resided on this side of the Big Island would dive in the underwater springs, carrying gourds to fill with fresh water, they called the area puna lu'u, which means "fresh spring that is dived for."
If you are swimming in the bay and you suddenly feel as if you are in both cold and warm water simultaneously, don't be alarmed! You're experiencing Punaluu's freshwater spring. The spring's water is colder than the ocean's water. And since saltwater has a higher density than freshwater, the spring water will rise above the saltwater.
A beach of jet black sand lined by row after row of coconut palm trees makes Punalu'u Black Sand Beach a memorable sight. Formed of volcanic materials and small, black lava fragments, this black sand is certainly cool to see, but often hot to the touch!
A Tip from Tutu: Since black sand is significantly hotter than white sand, be sure to wear water shoes or slippers (flip flops) when walking around Punalu'u Beach.
For many visitors to Hawai'i Island, seeing a sea turtle is at the top of their vacation list. And you just might encounter one of these calm, exotic creatures while snorkeling and exploring the bay!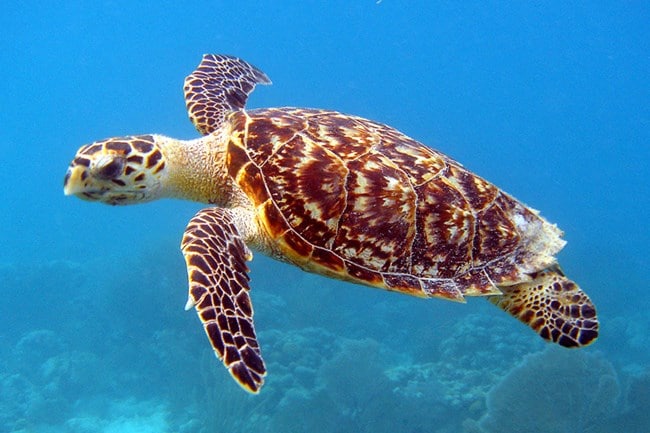 Discover Green Sea Turtles The honu (Hawaiian green sea turtle) is the only indigenous reptile found in Hawai'i. While honu can be seen up and down the coast of the Big Island, they are partial to some beaches, including Punalu'u Beach!
The Hawaiian green sea turtle frequents the black sand beach, but there is another turtle that has been known to make an appearance at Punalu'u as well – The endangered honu'ea, or Hawksbill turtle.
The Hawksbill is the rarest of the turtles in the Pacific Ocean, so we consider ourselves lucky that it nests on Hawaii Island. The turtles lay their eggs on the black sand beach, and after approximately two months, the hatchlings work together to move sand from the nest's roof and climb out into the world! The hatchlings test the sand to determine its temperature. Cool sand means that it's dark outside, and therefore safe to emerge and head for the sea.
Unfortunately, invasive predators, artificial lights, and other factors reduce the hatchlings' chances of making it safely into the water. Fortunately for the hatchlings at Punalu'u, the Hawai'i Volcanoes National Parks' Hawksbill Turtle Recovery Project volunteers are on hand to guide them to the ocean. And if you happen to visit Punalu'u Beach between May and December, you might be able to meet these dedicated volunteers.
These trained volunteers monitor beaches for nesting activity, protect mama honu, assist hatchlings, and educate visitors to the beach. If you see them, feel free to ask them about the Punalu'u hatchlings and honu.
A Tip from Tutu: It is illegal to touch or harass sea turtles in Hawai'i, as they are protected by state and federal law, and protected under the Endangered Species Act. Here in Hawai'i, honu are regarded as a sacred symbol of good luck in the form of an aumakua (guardian spirit). Their well-being is very important to us, so please do not feed or touch these protected beings.
If you do see these precious sea turtles floating on the gentle waves or basking on the black sand beach, give them their space. But take as many photos as your heart desires – You'll want to remember this encounter!
Snorkel in Calm Waters & Picnic Under the Palm Trees
Punalu'u has drinking water, showers, restrooms, and lifeguards during peak daytime hours. It is a one-of-a-kind beach with coconut palms framing the sand's edge.
Have we mentioned that the black sand can get very hot in the sun? This makes the shade under the palm trees a coveted place to set up for the day.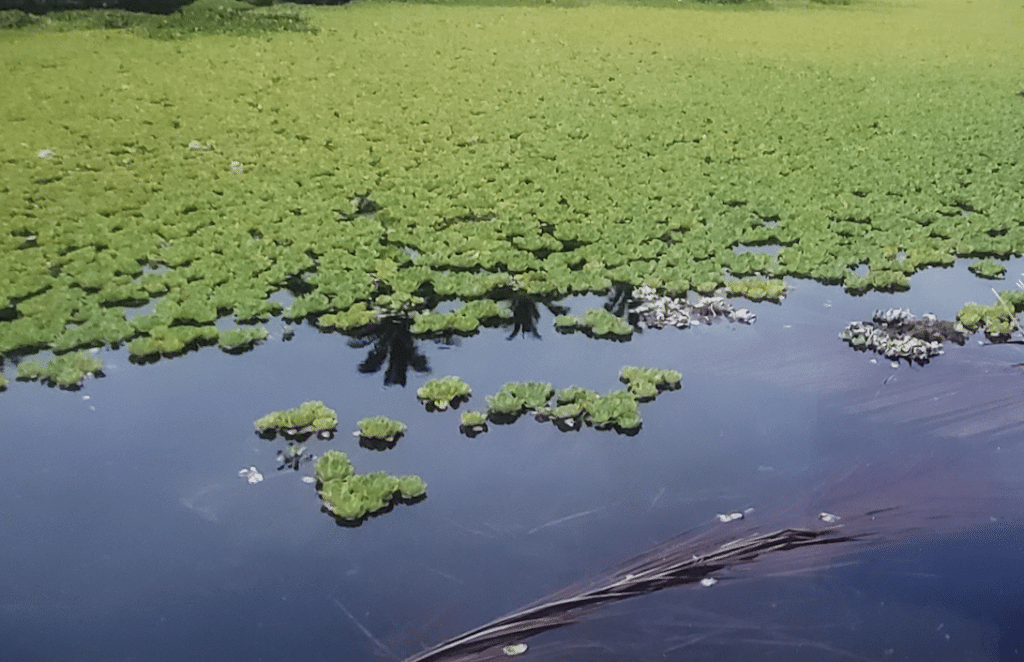 A large, brackish pond with flowering water hyacinth and water lilies located behind the black sand beach makes for a beautiful photo op.
On either side of the bay are ancient heiau. Adventurous hikers can make the climb and clamber over lava. Make sure that you're wearing footwear appropriate for hiking, as this not an adventure for one in slippers! As a respectful cultural practice, please stay out of these heiau and don't move any rocks or touch heiau walls. If you want to snorkel or go for a swim, the small boat ramp on the left side of the beach (when facing the water) is the best place to get in. Or check out Ninole Cove, where the shore forms a bay protecting snorkelers from the potential dangers of a powerful current. Ninole Cove is a short walk to the south/west of Punaluu's main beach.
Traveling with your kids? Little ones will love exploring the Ninole Cove's sheltered tide pools and enjoying calm water without all the waves. And the Punaluʻu Black Sand Beach makes a picturesque place for a picnic after playing in the tide pools.
A Tip from Tutu: We like to grab a takeout sandwich from the Punalu'u Bakery before heading to Punalu'u Beach for our picnic lunch. Head for the southern side of the beach, which is more sheltered.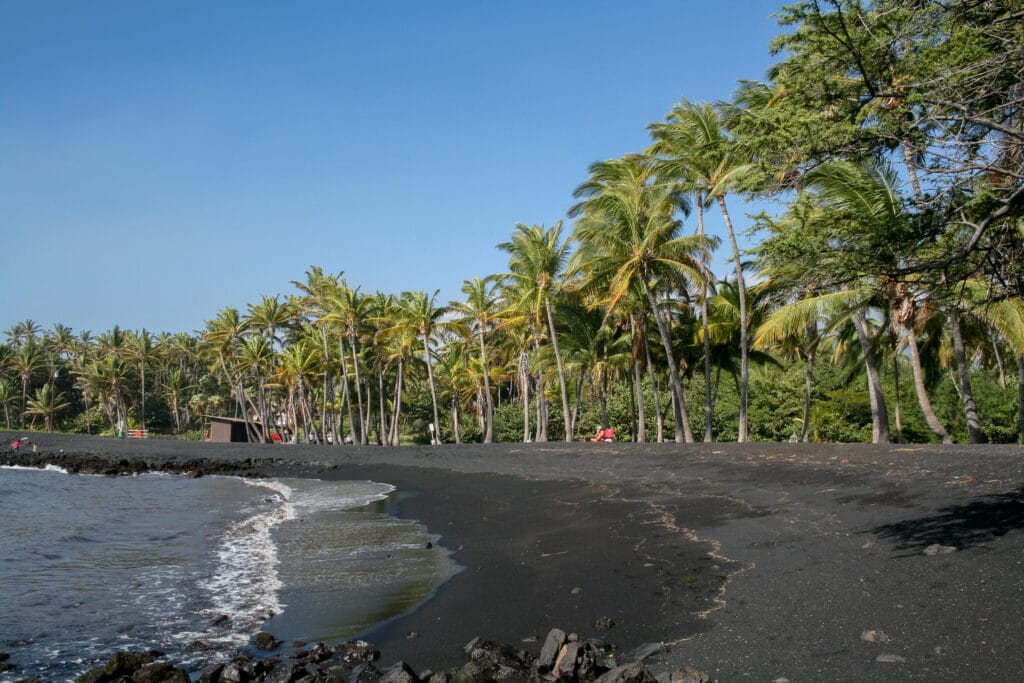 Punalu'u Beach is easily accessible from Volcano Villages, making Volcano Heritage Cottages the ideal home base for your Hawai'i Island adventures. To get to Punalu'u, take Highway 11 towards Kona. Between mile markers 56 and 57 on Alanui Road, turn makai (towards the ocean).
Book a stay at one of our cottages in Volcano today and get ready to explore the diverse, beautiful Big Island!