The Father of the Hawaiian Nation
Across the U.S., Memorial Day marks the unofficial start to summer, but here in Hawai'i, we usher in the new season on June 11th every year. 
June 11th is the day set aside to honor King Kamehameha the Great, also known as the father of the Hawaiian nation. A leader who united and ruled the islands during a pivotal time in Hawaii's history, King Kamehameha was prophesied to unify the Islands of Hawai'i from the night of his birth.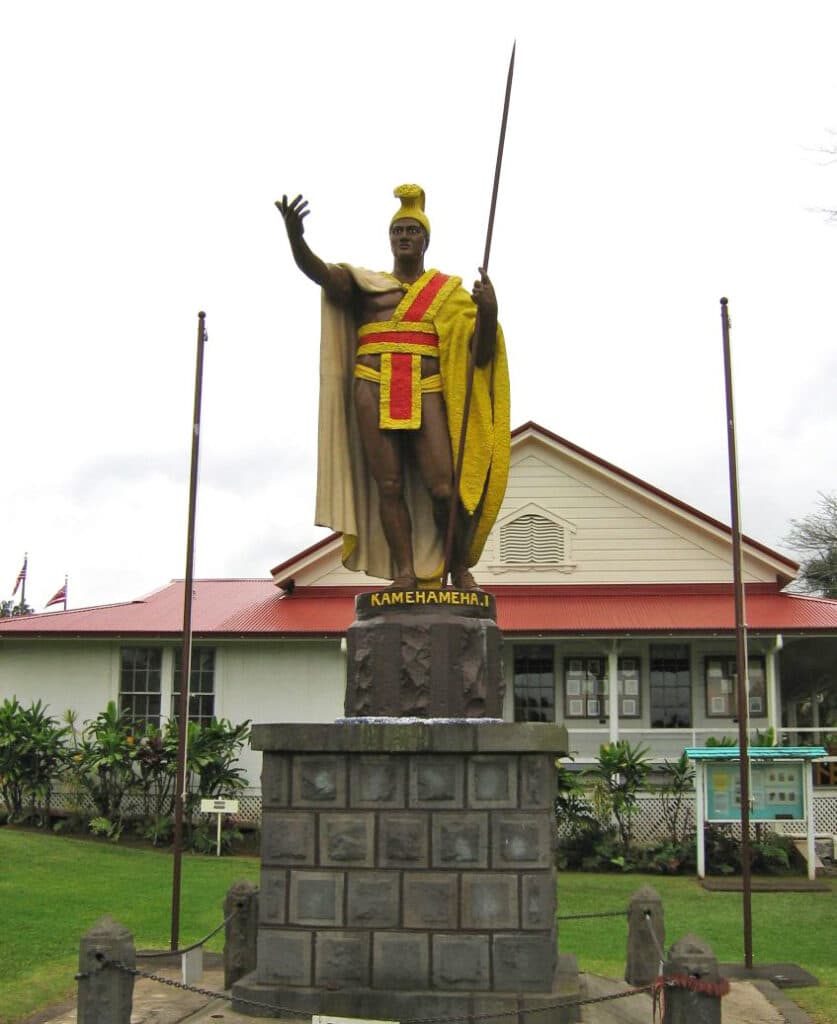 According to varying accounts, Kamehameha's original name was Pai'ea and he was born in North Kohala on the Big Island sometime between 1753 and 1761. His birth is linked by legend to storms, a comet that streaked across the sky, and other phenomenal activities believed by Hawaiians to fulfill an ancient prognostication: The child born under this phenomenon would rise up to be a great chief someday!
Born into a royal family, Kamehameha's mother was Kekuiapoiwa, a Kona chief's daughter and his father was most likely Keoua, Kohala's chief. Because of the prophecies surrounding his birth and the threats of warring clans, the newborn Kamehameha was kept hidden by protectors who carried him from small village to small village on the Kohala Coast, where there was a wet nurse waiting to feed him.  
Young Kamehameha spent his early years safe in Waipio, returning to Kailua when he was five-years old. Throughout his youth, he was taught the skills of fighting, living in a cave and learning determination. Growing up in the court of King Kalani'opu'u, his uncle, Kamehameha received special training from the King, and grew to become a very tall and powerful young man.  
In 1782, the King died. His power was divided between Kamehameha and Kalani'opuu's own son, Kiwalao, who inherited the King's throne. This division of power, however, led to a civil war. Kamehameha emerged from the war as ruler of Hawai'i Island and soon turned his ambitions toward the other islands of Hawai'i.
In 1790, Kamehameha and his warriors invaded Maui using cannons purchased from European and American traders, defeating Maui's army at the Battle of Kepaniwai while the island's aliʻi was on Oahu. Kamehameha defeated the island of Molokai shortly after that.
In 1795, Kamehameha and his warriors invaded Oahu's Waikiki beach and marched on to Nuuanu, where they fought and won a bloody battle with Chief Kalanikupule of Oahu and his warriors. In 1810, King Kaumualii of Kauai surrendered his island to Kamehameha without a fight, sparing his people the bloodshed other islands had suffered.
With that, Kamehameha became king, fulfilling his destiny of unifying the islands of Hawai'i under one rule. Under the new, united legal system established by King Kamehameha during his reign, the kingdom of Hawai'i experienced a period of peace. In May of 1819, King Kamehameha died, leaving his throne to his son, Liholiho. The King's bones were hidden by his kahuna and his burial place remains a mystery to this day!
The Establishment of King Kamehameha Day
Kamehameha the Great displayed great strength and intelligence as he created a united Kingdom of Hawai'i from what were once warring tribes. In 1871, King Kamehameha Day was established as a national holiday to honor the memory of Kamehameha the Great by royal decree by King Kamehameha V, great-grandson of Kamehameha I. On June 11, 1872, Hawai'i celebrated its first King Kamehameha Day to honor the legacy of Hawaii's first king.
June 11, 2022, marks the 150th anniversary of this state holiday and will be celebrated throughout Hawai'i with parades, hula, and lei draping ceremonies at his statues on Hawai'i Island and Oahu all weekend long. In Volcano, HI, we are honoring King Kamehameha through a juried art exhibit at the Volcano Art Center (VAC). The exhibition showcases artwork celebrating the life and legacy of Hawaiʻi's great warrior and statesman. 
On display from May 21 – June 26, 2022, this mixed media, multi-artist exhibit includes works of art expressing the relevance of the great king, including the indigenous culture and language of the Hawaiian Islands.
Visit VAC's Gallery in Hawai'i Volcanoes National Park to see this special exhibit, as well as stunning paintings, sculptures, and more. Open daily from 9 A.M. – 5 P.M, the gallery is easily accessible from the Volcano Heritage Cottages, making our vacation rentals the ideal home base for exploring the Center and beyond while visiting Hawai'i Island. Book a stay at Tutu's Place or the Ola'a House in Volcano today!