Hauʻoli Makahiki Hou kākou – Happy New Year everyone! Around the world, January is a popular time of year for setting new goals. And here in Hawai'i, it's also Volcano Awareness Month, which means it's the best time of year to learn more about the 6 (yes, six!) volcanoes on the Big Island!
In 2010, January was declared Hawaii Island's Annual Volcano Awareness Month by the USGS Hawaiian Volcano Observatory (HVO) as part of efforts to further educate kama'aina (residents) and visitors on the volcanoes that have formed our island home. With a deeper understanding of Hawaii's volcanoes, we can all safely explore and enjoy Kīlauea, Mauna Loa, and beyond!
Today we'll look at Six Fun Facts about Hawai'i Island's volcanoes. Let's dive right in!
1. Hawaii's volcanoes are unique
Since they are 2000 miles from tectonic plate boundaries (which is where a volcano is typically found) our Hawai'i volcanoes are very unique!
The youngest of the Hawaiian Islands, the Big Island was created by six of these volcanoes, which formed one after another. In order of youngest to oldest, Hawai'i Island's volcanoes are: Kīlauea, Mauna Loa, Hualālai, Mauna Kea, Kohala, and Mahukona.
2. The world's most active volcano is right here in Volcano, HI
Kīlauea is the most active volcano in the world! In fact, it has been erupting consistently (more or less) since 1983. And its most significant eruptions actually occurred in this very month.
January of 1960 marked the commencement of the Kapoho eruption, one of the most destructive Kīlauea eruptions. And in January of 1983, Kīlauea's Pu'u 'O'o eruption began on the middle East Rift Zone and lasted until 2018 – That's a 35-year eruption!
While the eruption in Halema'uma'u crater at Kīlauea Volcano's summit paused from the summer of 2018 until December of 2020 (and once again for a few days at the beginning of 2022, seemingly taking a holiday like the rest of us!) lava began erupting once more on January 5th from the west vent.
From glowing lava lakes and lava oozing down to the ocean to bursts of red hot 'a'ā pushing streets open, Kīlauea's eruptions have long fascinated adventure seekers and nature lovers, while simultaneously alarming those who live in the lava's path.
In 2018, Kīlauea displayed her destructive side, erupting from the lower East Rift Zone on May 3rd and slowly covering parts of highways and neighborhoods. It was a potent reminder that although eruptions of Hawaii's volcanoes are stunning and can often be safely viewed, they can also directly impact both the people and economy of Hawai'i.
At present, all recent lava activity is confined to the crater and there is no sign of volcanic activity elsewhere on Kīlauea, making it safe to visit Hawai'i Volcanoes National Park for a glimpse of the lava pooling up in the Halema'uma'u crater.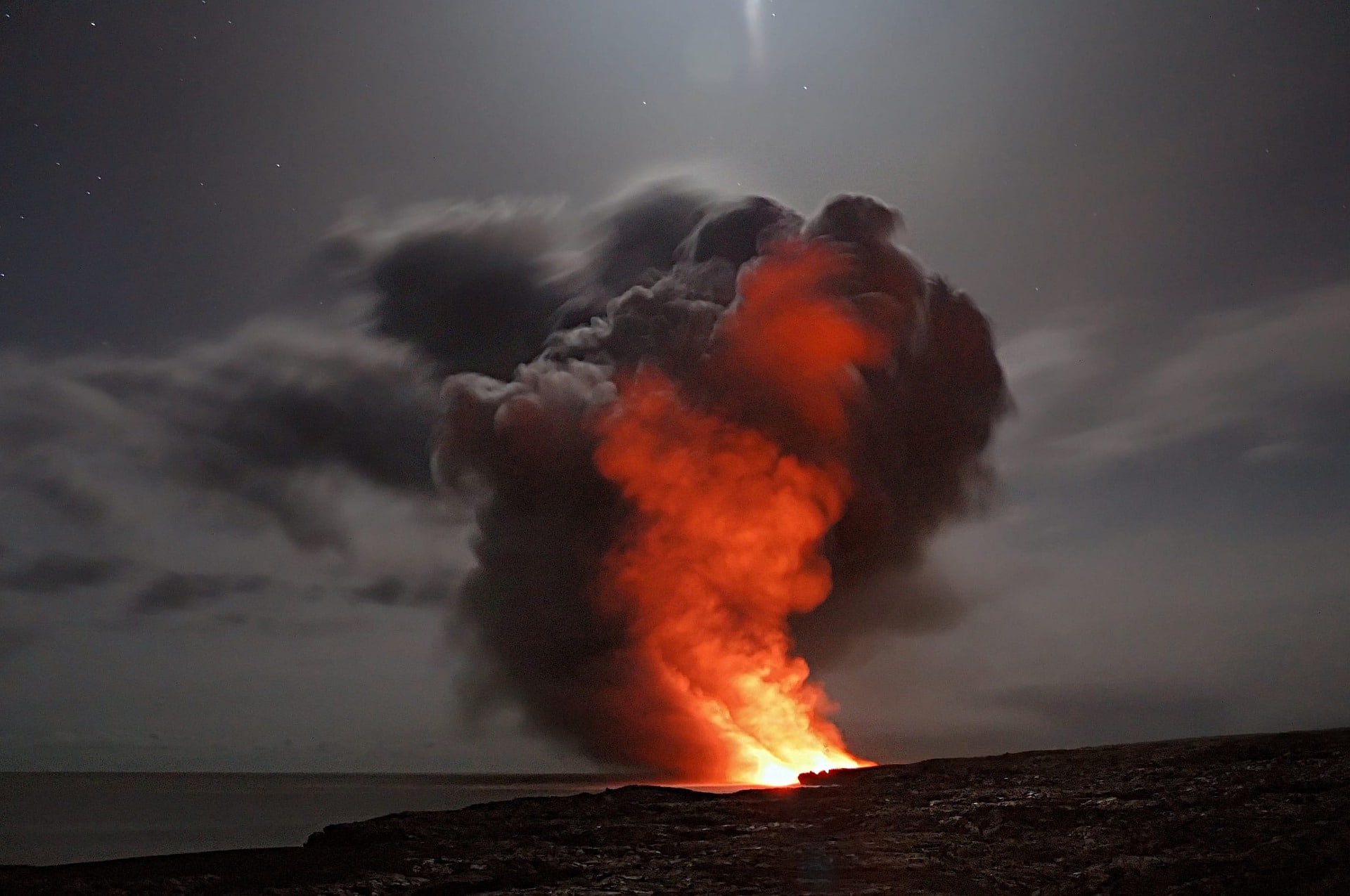 3. The biggest volcano on earth is found on the Big Island
If measured from sea to summit, Mauna Loa rises to over 2.5 miles. What's more, the volcanic mountain's base begins on the seafloor and ascends 3 miles before even breaking the ocean's surface.
With the round, broad slopes of a classic shield volcano, Mauna Loa makes up over half of our 4,028-square mile island. Mauna Loa is so massive, in fact, that she has depressed the seafloor another 5 miles (and counting)!
January happens to mark the anniversary of an eruption that filled Kiholo Bay south of the Waikoloa resorts in 1859. In December of 1935, Mauna Loa erupted once more, sending lava toward Hilo at a rate of a mile per day.
Concerned that it would reach the town, Thomas Jaggar, the founder and first director of HVO, recruited the Army Air Corps for an intervention, dropping 40 bombs on the lava's channels and tubes in hopes of blocking the lava flow. Although bombing the lava didn't work, Hilo was spared as the lava eventually stopped flowing.
36 years have passed since Mauna Loa's last eruption, but the volcano is still regarded as active. Fortunately, the USGS monitors all volcanoes consistently for significant changes to their eruptive status and works closely with HVO, Hawai'i Volcanoes National Park, the County of Hawai'i Civil Defense Agency, and other local agencies to ensure public safety. And to this day, no one in Volcano has had to evacuate the village because of volcanic activity!
4) Hawai'i Island has the tallest mountain in the world!
At nearly 13,796 feet above sea level, Hawaii's Mauna Kea is technically shorter than all 29,032 feet of Mount Everest. But if one were to measure the dormant volcano from its origin on the seafloor to its peak, then the additional 19,700 feet we can't see brings the dormant volcano's height to 33,496 feet, making it the tallest mountain in the world!
What's even more mind-boggling is that Mauna Kea (and occasionally Mauna Loa) are at such a high enough altitude that they can become blanketed in snow in the winter – Yes, snow in Hawai'i!
Mauna Kea actually means "white mountain," and it's quite a magical experience to travel to its summit to see the island's snow in the morning and be back on the beach sunbathing by the afternoon.
5) Kona's famed coffee is grown on the slopes of one of our volcanoes
Just above Kona is the dreamy town of Holualoa, where much of Kona's legendary coffee is grown on Hualālai's slopes. Hualālai is considered an active volcanic mountain, but it hasn't erupted since 1801.
For centuries, it has been home to native Hawaiians and its western slopes have been the site of several royal complexes. Hualālai also holds ecological significance as many rare species of plants and animals call the mauna home. Today, Hualālai attracts hikers, nature enthusiasts, and the many java lovers making their way through Kona's coffee belt in search of the perfect brew.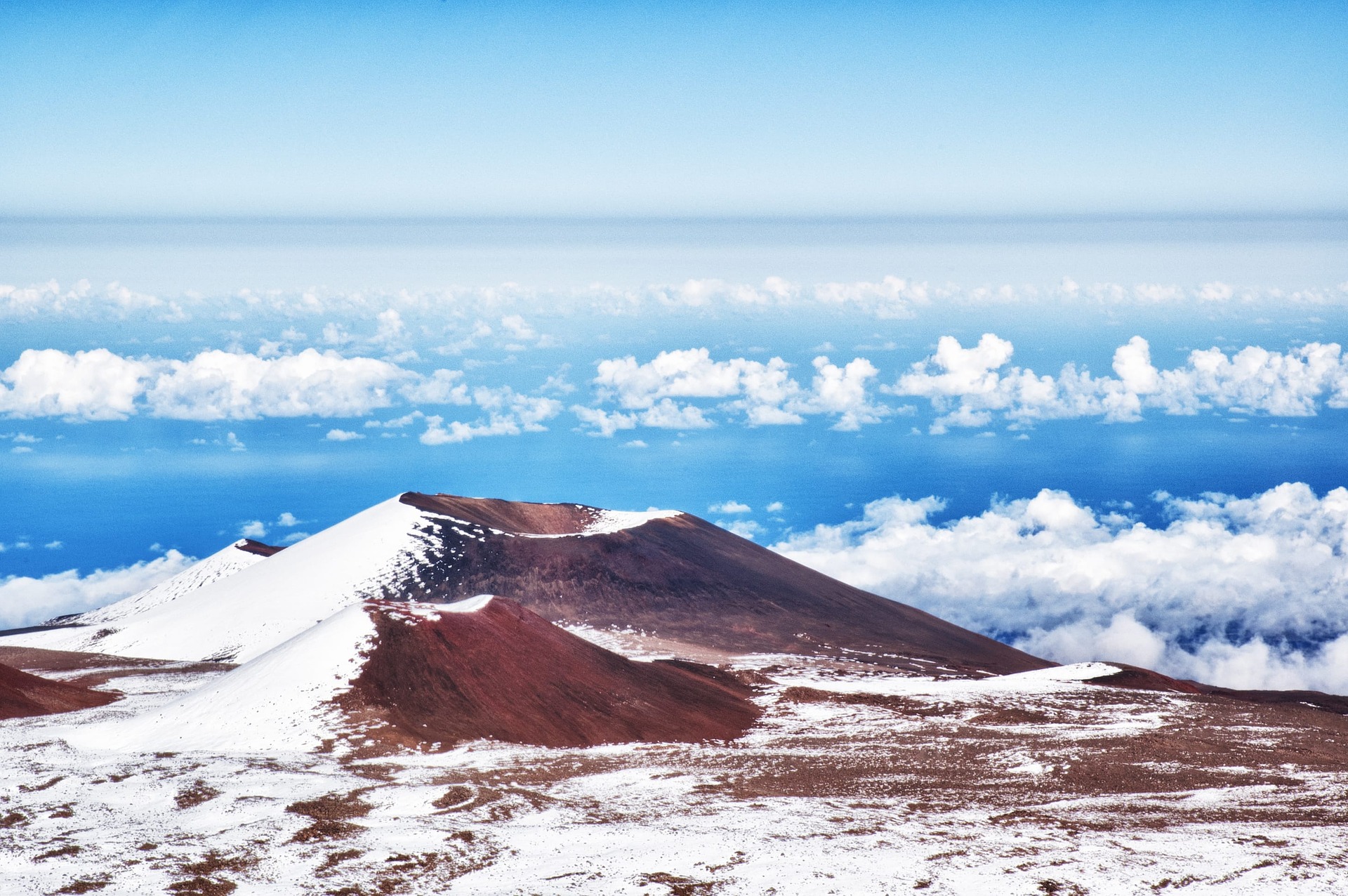 6) You can spy on the volcanoes!
To behold one of our volcanoes in person is a breathtaking experience. And Volcano Awareness Month helps in understanding and respecting volcanoes like Kīlauea before your visit!
Interested in the current conditions on some of Hawaii's volcanoes? Webcams enable you to see conditions on Kīlauea, Mauna Kea, and Mauna Loa Volcano in near real time!
For Kīlauea's Summit Area, Lower East Rift Zone, and East Rift Zone, visit: www.usgs.gov/volcanoes/kilauea/webcams
For Mauna Loa's current webcam images, visit: www.usgs.gov/volcanoes/mauna-loa/webcams
For time-lapse videos of Mauna Kea, visit: mkwc.ifa.hawaii.edu/current/cams/index.cgi?mode=multi
If you've never visited Hawai'i Island before, it's natural to be concerned about how safe it is to visit in light of volcanic activity and wonder if that will impact your time on the island. The good news is that you can have the once-in-a-lifetime experience of visiting, without compromising your safety!
Find out just how safe it is to visit Hawai'i Island during Kilauea's eruption and how to see the lava here: Visit the Kilauea Volcano
If one of your New Year's goals is to have a true Hawai'i adventure on a Big Island volcano, we're here to help! Our charming Volcano Heritage Cottages are vacation rentals located in the heart of the same lush rainforest as Hawai'i Volcanoes National Park. Book now and spend the day exploring the volcano, and the evening reminiscing about your encounter with one of Mother Nature's most powerful, beautiful forces from the comfort of a historic Volcano Heritage Cottage.