Nature abounds in and around Hawai'i Volcanoes National Park. And we're not just referring to the Kilauea Volcano, which is currently (and nonchalantly) erupting – Many animals call the park and surrounding village of Volcano home.
And if you're a bird watcher planning a visit to the Big Island, you're in luck because the Hawaiian Islands are renowned for their spectacular congregation of land birds. 
Anyone staying in Volcano Village won't have to go far to find a variety of species of endemic birds that are considered threatened or endangered. Less than two miles from our Volcano Heritage Cottages is Hawai'i Volcanoes National Park, where you can easily spot the Hawaiian goose, the Hawaiian petrel, and more.
Read on to learn about a few of these rare, beautiful birds and how to spot them while visiting Volcano, Hawaii: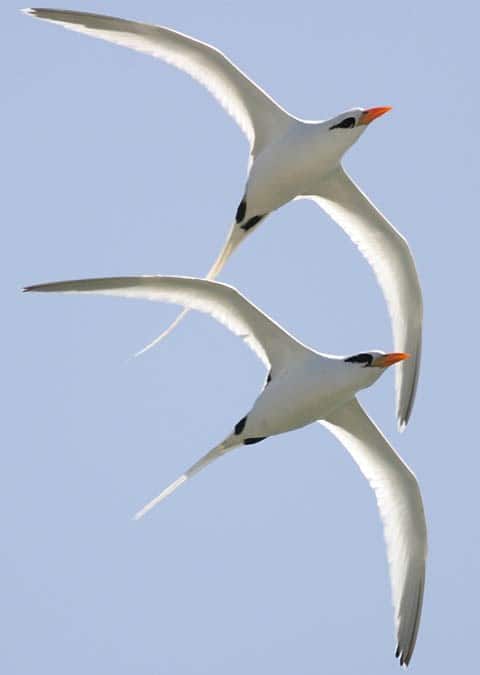 Koa'e Kea
If you've seen a majestic bird with tail feathers that are almost 16-inches long soaring near the Ka'u Desert's pit craters or above Kīlauea's caldera, you might wonder if Tutu Pele has made the mythical phoenix her pet. In reality, you're likely looking at the white-tailed tropicbird, or koa'e kea. With trademark tail feathers that can be as long as its actual body, the koa'e kea looks mischievous with its black eyed-mask and orange bill.
When it isn't feasting on crabs, fish, and snails, the white-tailed bird is nesting on remote crater walls, hard-to-reach cliffs, or on remote grounds, where it has a better chance of avoiding predators. If you were able to peer over the edge of Kīlauea's caldera or the Halema'uma'u crater (which you can't), then you might catch a glimpse of the koa'e kea circling within.
Nēnē
Revered as the official state bird, the nēnē is the rarest goose in the entire world! When Captain Cook arrived here in 1778, it is estimated that nearly 25,000 nēnē were in existence in Hawai'i. Unfortunately, nēnē populations decreased to a mere 50 birds by the 1940's. Cats, dogs, cattle, pigs, and other introduced predators, as well as the loss of their lowland habitats, contributed to this decline.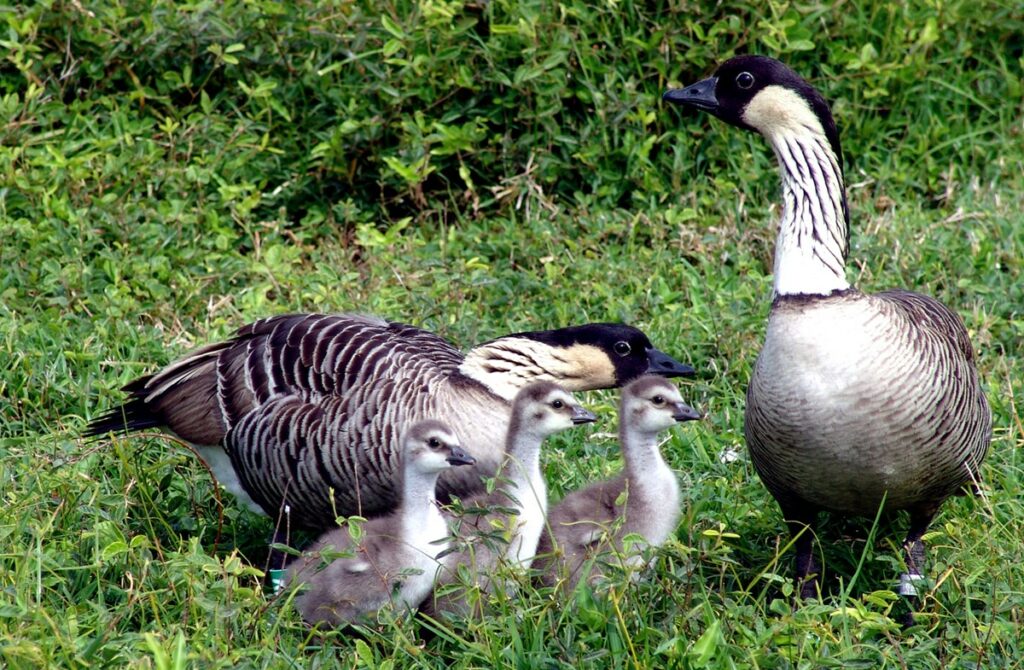 Since the 1970's, however, Hawai'i Volcanoes National Park has been conducting a program for captive breeding and reintroduction of the nēnē. The park's staff currently uses various techniques to ensure that the nēnē survives and even thrives someday!
But mongoose, feral cats, and automobiles still hamper the nēnē population from growing significantly, so the nēnē's survival depends on our help. Please don't feed the nēnē, as this makes them accustomed to people and cars, putting them at great risk.
Don't worry, they have plenty to eat in the park – the bright red ohelo berry, which grows on lava, is a particular favorite among the nēnē!
ʻIo
Royalty of the Hawaiian skies, the 'io is the only hawk species native to Hawai'i. Adults can be between 15 and 20 inches tall, and you can often spot them circling along Mauna Loa Road and above Kīlauea's summit.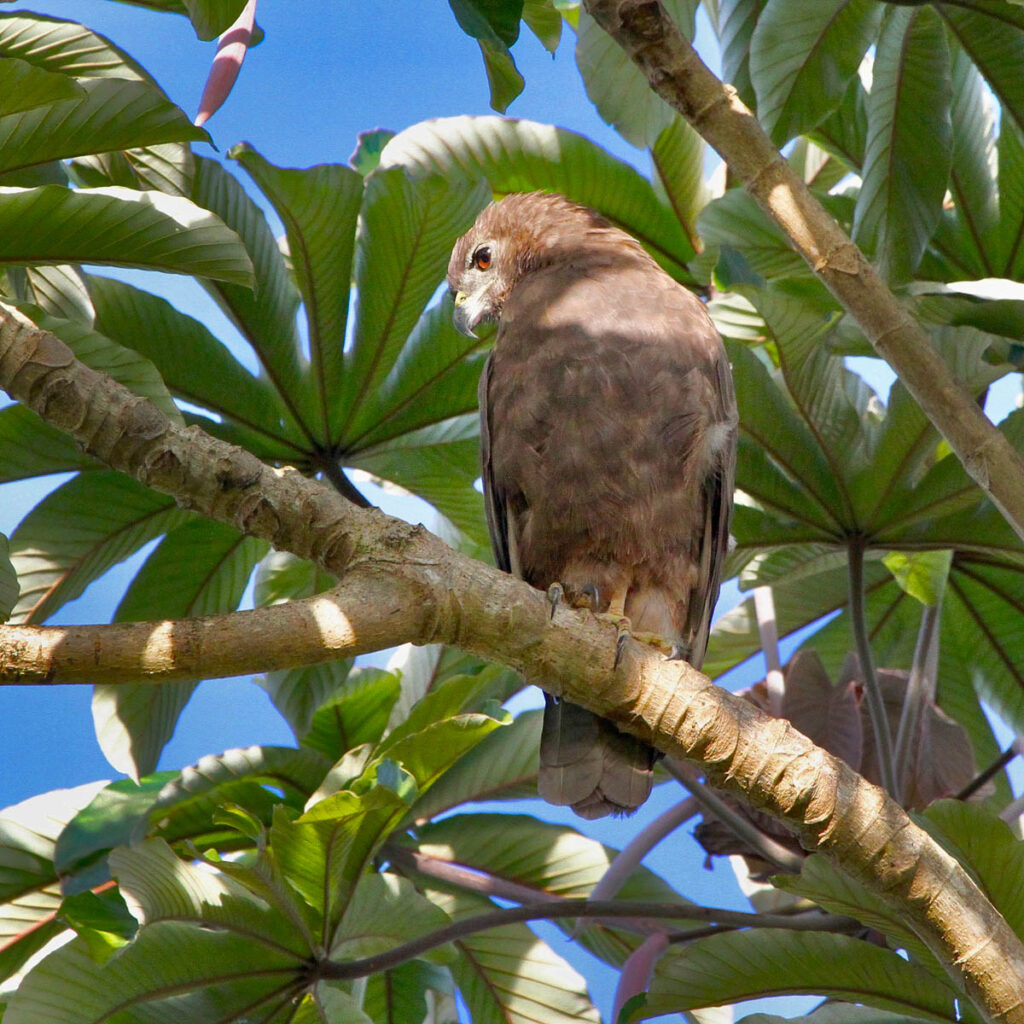 Once on the endangered species list, 'io populations are rising, thanks in part to its adaptable palate. The 'io, or Hawaiian hawk, generally prefers feasting on native species, but it has been known to fly off with chicks from the nearby farms.
'Ua'u
Surprised that we have petrels on Hawai'i Island? Most people are! But the 'ua'u (Hawaiian petrel) is a native seabird that is federally endangered, making 'ua'u sightings a rare treat.
There are only a handful of the 16-inch long 'ua'u (average length from head to tail) on the Big Island and the majority of their nests are found in Hawai'i Volcanoes National Park, on Mauna Loa's lower alpine and subalpine slopes. 
With a three-foot wingspan, the 'ua'u are dark grey on top and white on the bottom, and have various calls, including oo-AH-oo. You could say the 'ua'u named itself! 
According to biologists, there are only 50 to 60 breeding pairs remaining, which makes it critical that the 'ua'u be protected. If you happen to find an 'ua'u or any grounded seabird while exploring the park, please contact dispatch at 808-985-6170.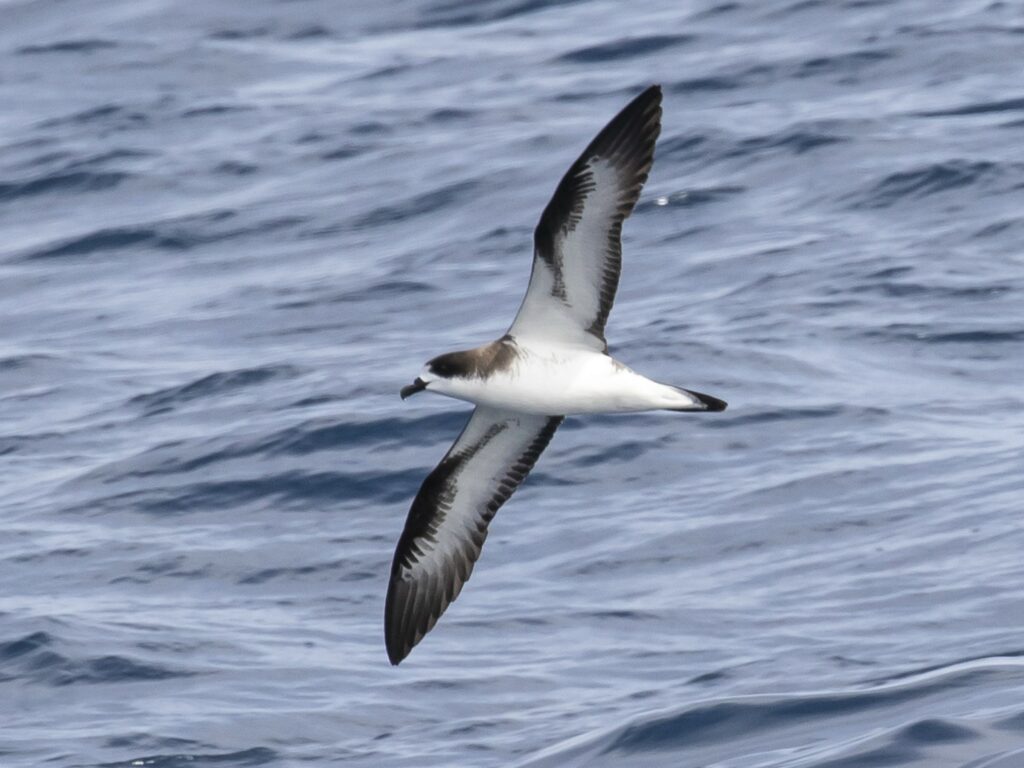 I'iwi
In ancient Hawai'i, powerful individuals would frequently wear stunning feather capes of i'iwi feathers to convey their prestigious status. With its glowing crimson plumage and black wings, the i'iwi has a reputation for embarking on long flights over the forests, searching for ō'hi'a lehua (flowers). Typically, the i'iwi is only seen in forests of Hawai'i Volcanoes National Park that are above at least 4,500 feet.
'Amakihi
The nonmigratory Hawai'i 'amakihi is one of the most common of Hawaii's native forest birds. An omnivorous bird, the 'amakihi can often be spotted perched on the branch of an endemic ō'hi'a, feeding on arthropods, insects, and some nectar. 'Amakihi are well known for their vivid yellow-green color and bill that turns down ever so slightly.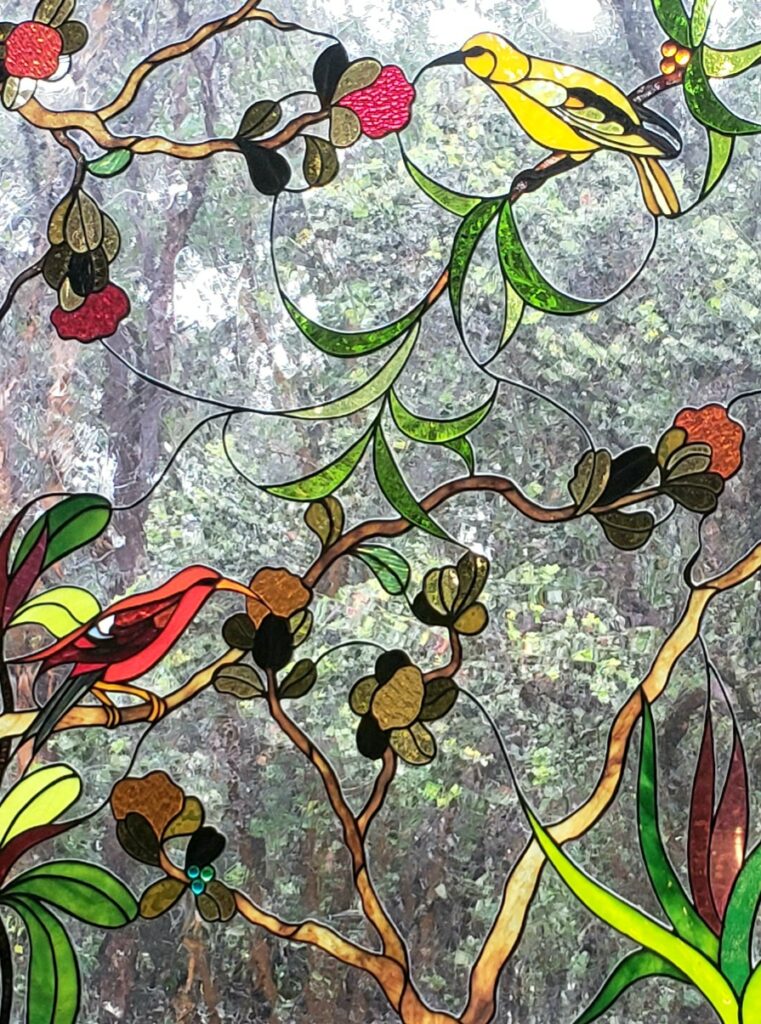 There are certainly many colorful, fascinating birds to be seen in and around Hawai'i Volcanoes National Park. You might even encounter some 'i'iwi and 'amakihi birds just like the ones depicted in the stained-glass window at Tutu's Place while simply wandering among the tropical flowers and fern trees on the cottage grounds.
Visit The Cottages page for more information on Tutu's Place or our other charming vacation rental located in the heart of Volcano Village, the Ola'a House.