May Day is Lei Day in Hawai'i
Garlands of flowers everywhere
All of the colors in the rainbow
Maidens with blossoms in their hair.
If you're lucky enough to visit the Big Island on May 1st, you'll notice that May Day is Lei Day here and all across Hawai'i Nei!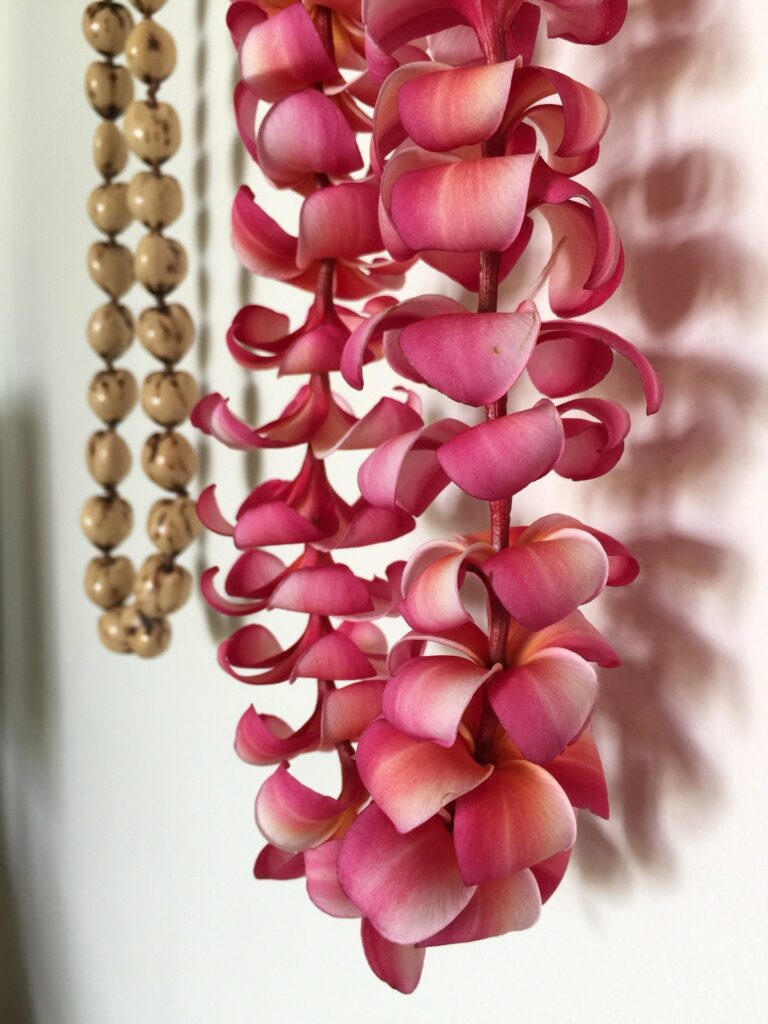 In 1928, poet and writer Don Blanding wrote an article published in a Honolulu newspaper, proposing that a holiday be dedicated to celebrating the Hawaiian custom of making and wearing beautiful lei. In response, Honolulu Star-Bulletin journalist Grace Tower Warren echoed his sentiments, suggesting May 1st as the official holiday.
The History of Lei Day
"May Day is Lei Day," wrote Warren. And so it came to pass that on May 1, 1928, the first official Lei Day celebration was observed in Honolulu, HI. Encouraged to make, exchange, and were a lei, residents attended the first May Day Festival, enjoying music, hula, and lei-making that embodied the spirit of Aloha.
Lei Day gained momentum and is celebrated throughout all the Hawaiian Islands to this day! In years past, residents and Volcano, HI visitors would celebrate May Day at the Volcano Art Center (VAC) Gallery in Hawaiʻi Volcanoes National Park with festivities, hula, and of course, hands-on lei making demonstrations and exchanges!
We can't think of a more symbolic way to celebrate the multi-cultural traditions woven together to create a tolerant, unique, and beautiful community here in Hawaiʻi Nei than with a day honoring the tradition of flowers and leaves woven into a bright, fragrant lei.
This year, we won't be able to celebrate in person, but we can celebrate virtually! Wondering how? Here are some of Tutu's tips for crafting and exchanging the perfect May Day Lei!
The Perfect May Day Lei
Making and wearing a lei of flowers and leaves, as well as kukui nut and even feathers, is one of the most renowned Hawaiian practices. To sew your own lei, you'll need flowers (and the above-mentioned trimmings if you're feeling ambitious), a regular needle (or a long lei-making needle, which allows you to string multiple flowers at once), and fishing wire or similar string.
We are partial to orchids, maile, or plumeria for our lei, since they are attractive and sturdy enough to be handled and hung around our necks. Be sure to have about 50 flowers for the standard 40-inch lei. As far as the string, cut about 100 inches, which allows for a 40-inch lei and an additional five inches on each end that you'll tie together when you're done stringing the flowers.
Take the needle and thread the length of string through the eye, until it is doubled over and even. Tie both ends of the string together in a knot to form a stopper for the flowers you will thread. Don't forget to leave five inches of string hanging below the knot so you can tie the lei.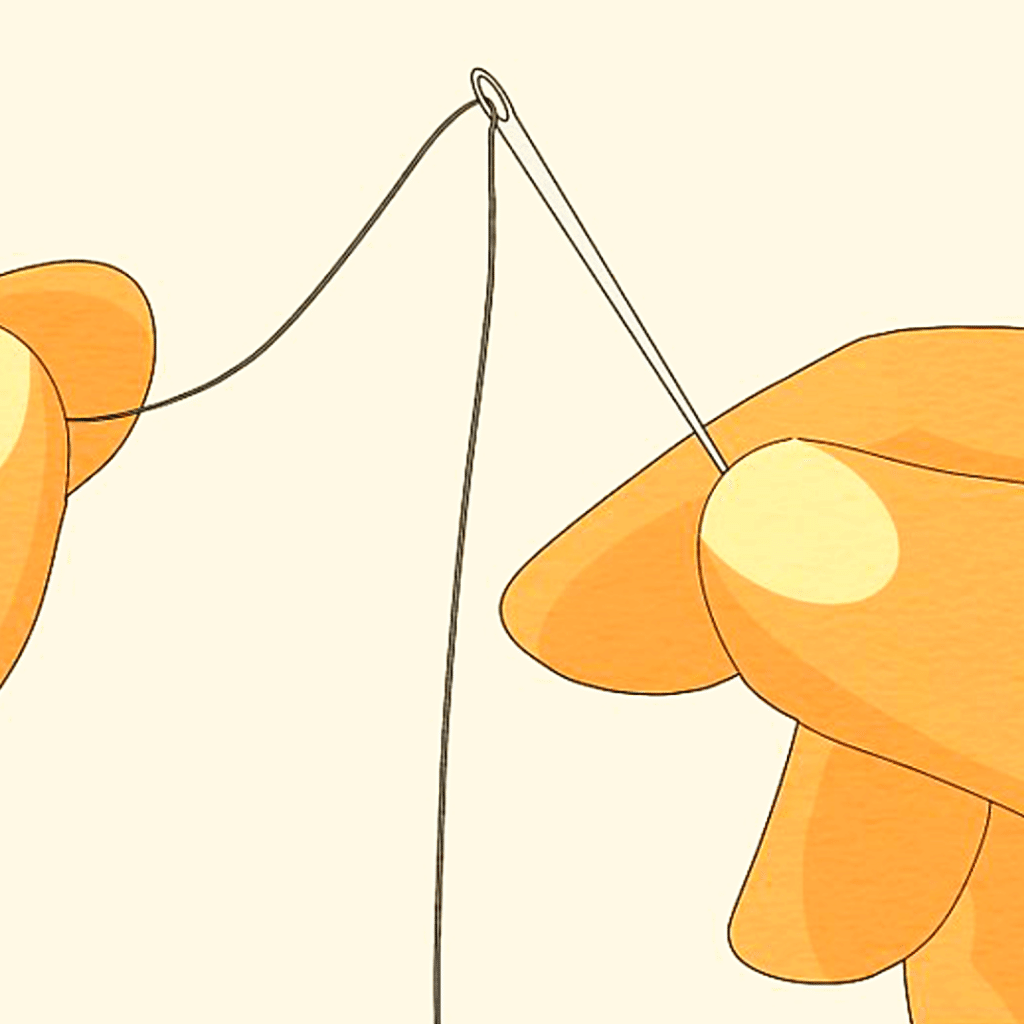 Source: www.wikihow.com/Make-a-Lei
Holding your first flower, pass the needle straight through the center of the flower's front and through to the stem. Gently push the flower down to the end of the string where the knot is, being careful not to damage any petals. One by one, continue stringing the rest of the flowers using the same approach.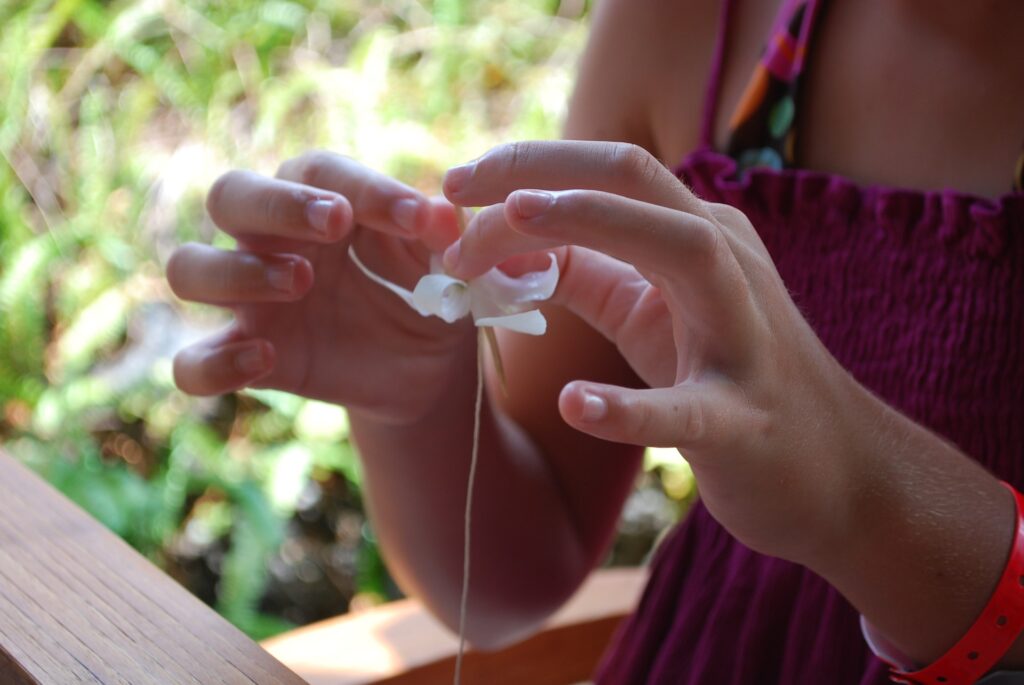 Once you're done stringing all of the flowers onto the lei, adjust the first and last flower, so there is no gap between the two. Finally, tie the ends of the lei string in a square knot.
The Proper Etiquette for Giving and Receiving a Lei
A lei is just as much fun to give as it is to make… especially on Lei Day! There is a protocol, however, for giving and receiving a lei.
Since the pandemic isn't quite behind us yet, be safe and give any lei you make to someone in your household. When you do give them the lei you worked so hard to create, you can place it around their neck and give them a kiss on the cheek, as is customary in modern-day Hawai'i.
You can also present the lei while bowing forward, enabling the recipient to take the lei and place it around their own neck. Or keep the lei you made and share a little aloha by displaying it on your lanai, front door, or mailbox!
It is an honor to receive a lei, so wear it graciously. A closed lei should be worn on the shoulders, with half of it hanging down the back and half down the front. An open lei, on the other hand, should be draped behind the neck, with both ends hanging down the front.
If you are given a lei on May Day (or any occasion for that matter!), don't refuse this precious gift unless absolutely necessary. In the case of allergies to certain flowers or other personal issues that prevent you from wearing the lei, it is acceptable to gift the lei to your significant other after apologizing politely to the giver of the lei.
We hope you'll join us in continuing the tradition of making May Day Lei Day and celebrating this colorful Hawaiian holiday. And if you are considering visiting Volcano, Hawai'i, and have any questions about how to experience our traditions and celebrations, what to see while you're here, and staying at our Volcano Heritage Cottages, we'd be happy to help, so reach out!
And have a Happy Lei Day!