On the Big Island, we regard Madam Pele with the highest respect. She is sometimes referred to as "ka wahine ai honua," or the woman who devours the land, and it's a fitting description of the goddess of dance, fire, lightning, and volcanoes.
Through the chants of Hawaiian kumu, her legend has been kept alive for generations.
Today, Madam Pele is more significant than ever to those of us living in and visiting Volcano, as she has taken up residence in Kīlauea Volcano, which is currently erupting. Halemaʻumaʻu crater's lava lake isn't the only proof of Pele's presence, however.
Her profile has been sighted in the plume of gas and steam rising from the crater. And for over a century, many claim to have encountered Madam Pele appearing as either a tall, attractive young woman or a frail, elderly woman, often accompanied by a white dog. In the spirit of Halloween, we'll be sharing some of our favorite tales of Pele's dog in today's blog!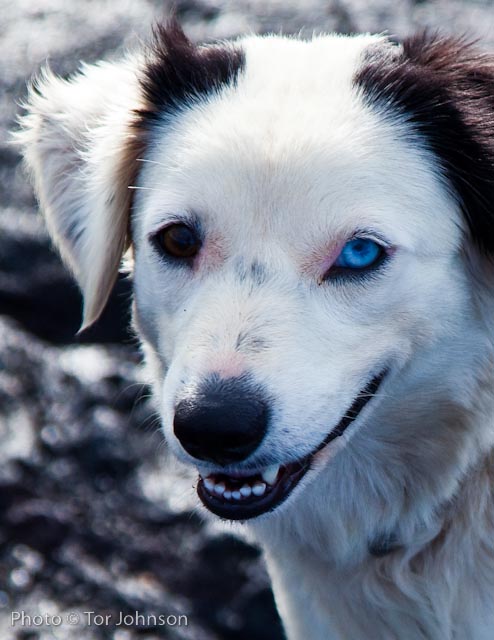 An Omen on the Slopes of Mauna Loa
Many believe that if a black cat crosses one's path, it's bad luck. But what is the significance of a white dog crossing your path?
Here on Hawai'i Island, that white dog just might belong to Madam Pele, and it is not uncommon for visitors to Hawai'i Volcanoes National Park to report encountering a ghost-white dog on Crater Rim Drive. According to Hawaiian Legend, Pele deploys her mythical canine to warn the community that an eruption is approaching.
Sightings of the pup date back to 1959, when staff of the Hawai'i Volcano Observatory lived at the Mauna Loa observatory for a week at a time on rotating shifts. In late 1959, a white dog started coming around, usually seen about 1/2 km below the observatory.
Despite the staff's constant efforts to befriend and feed the mysterious dog over the weeks that followed, it continued to elude and confound them – Could this dog wandering the slopes of Mauna Loa be the same dog once sighted in Volcano, HI, 72 miles away?
Just before Kīlauea Iki erupted in November, the white dog vanished, only to reappear at the observatory several months later. From 1959 to 1966, Kīlauea Iki eruptions continued, as did sightings of the elusive canine.
As if convinced its job of alerting the community to volcanic activity was done, Madam Pele's pet disappeared just before an 80-million-cubic-meter eruptive event at Halemaʻumaʻu that would last from 1967 to 1968 (a grand total of 251-days). As white as snow on Mauna Loa in December, the dog would not reappear again until 1988.
Tutu Lorna's Account of the White Dog
In 1988, the lava began flowing from Hawai'i Volcanoes National Park and heading toward the sea. Back in those days, there were several small, black sand beaches and a wonderful coconut tree-lined park on the ocean called Kamoamoa. The villagers of Kamoamoa loved to go down there to watch the sunrise or have picnics. It was a very romantic spot!
Kīlauea's Pu'u 'O'o-Kupaianaha eruption, which now ranks as the most destructive in Kīlauea's recent history, eventually sent lava across the Chain of Craters Road, taking out Kamoamoa on its way to the ocean. Albert and I [Lorna] took my Mom, who was in a wheelchair, to witness the coverage of lava. We had champagne and toasted the land being returned to Madam Pele.
A few weeks later, Kate, my daughter and Mike, her husband came to stay at the Kīlauea Lodge, which Albert and I owned at the time. After dinner, we recommended that they visit the newly-formed lava entries on the park's coastline. The rangers had created a small trail to follow, with some lights along the way. Kate and Mike ventured out and I went to bed, exhausted from the 15-hour days that Al and I worked back then in order to make ends meet at the Lodge.
The next morning at breakfast, I asked Kate and Mike about the trail and how the views were. With the strangest expression on both their faces, they recounted their experience:
"Mom… we saw a white dog on the black sand, on one of the small beaches. The trail was above the beach," they continued. "We can't figure out how the dog got down there or why the dog would even want to be down there. Nowhere were there any houses or owners for the dog."
Kate and Mike are far from being superstitious. What's more, I had NEVER told them any of the white dog stories. Still, they were convinced they saw something supernatural that evening and were blown away by the experience.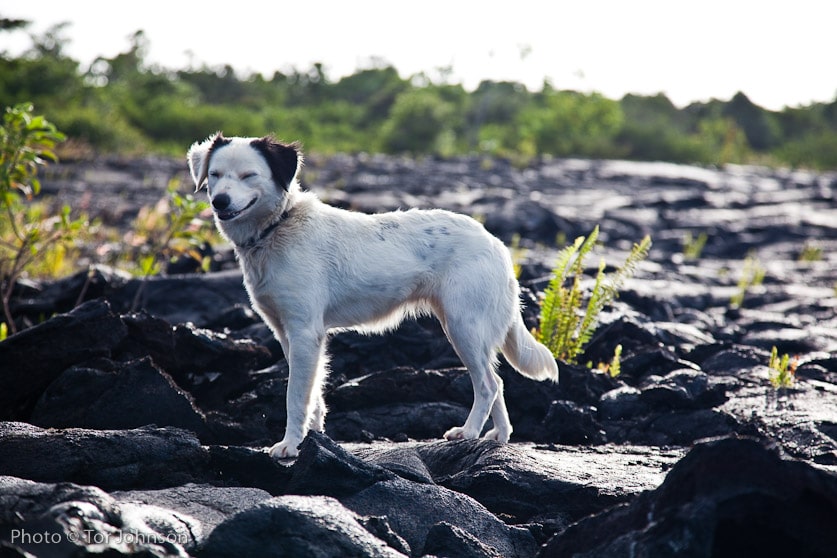 21st Century Sightings of Pele's Dog
Retired Big Island police officer and community storyteller Leningrad Elarionoff affirms that the white dog has been seen many times by those living in the region of Ka'u, home to most of Hawai'i Volcanoes National Park.
"The animal often appears just before an eruption takes place, and always appears at night or early morning," says Leningrad. "I have heard talk about how it can appear and then gradually gain in size as it approaches, then fades into the night."
In 2009, photographer Tor Johnson of Oahu was visiting the Waikupanaha Ocean Entry site on the Big Island to capture lava flowing and the island being created on film. As he carefully hiked out from that site, he saw a white dog standing in a black lava field. Slowy, quietly, he pulled out his camera and took several photos.
"It wasn't until I looked at the photos on my computer later that I noticed the interesting and strange expression on the dog's face," says Tor in his blog. "I'm the least superstitious person I know, but there was something about that dog…"
Since Kīlauea began erupting again in September, it would come as no surprise if earlier that month, Madam Pele's four-legged friend was out and about, warning us of her return to the volcano. If you've encountered a white dog while out exploring in Hawai'i Volcanoes National Park, we'd love to hear about it!
But if you fail to spot Pele's dog, don't be too disappointed. From basking in the glow of the lava lake within the Kīlauea caldera to taking the Kīlauea Iki Trail across the floor of the volcano's crater and over the exact spot where red-hot lava burst forth on that November day in 1959, you can still see the work of the volcano, past and present, when you visit the park!
If you're planning on spending a few days in Volcano to enjoy all that Hawai'i Volcanoes National Park has to offer, you can't get much closer than the Volcano Heritage Cottages. Located in the heart of Volcano Village, our cottages are only five minutes from the park, so book your stay at Tutu's Place or the Ola'a House today!