Madam Pele has returned to Halemaʻumaʻu, a pit crater within the Kīlauea Volcano's caldera, located in Hawai'i Volcanoes National Park! Kīlauea erupted nearly continuously from 1983 to 2018, then settled down for a two-year nap.
Then, on December 20th, 2020, a glowing lava lake replaced the lake of water that had been gathering in Halemaʻumaʻu and Kīlauea treated us to a winter solstice eruption. But by May 25th, 2021, active lava on the surface of the lake was undetectable. Kīlauea's five-month eruption had ceased.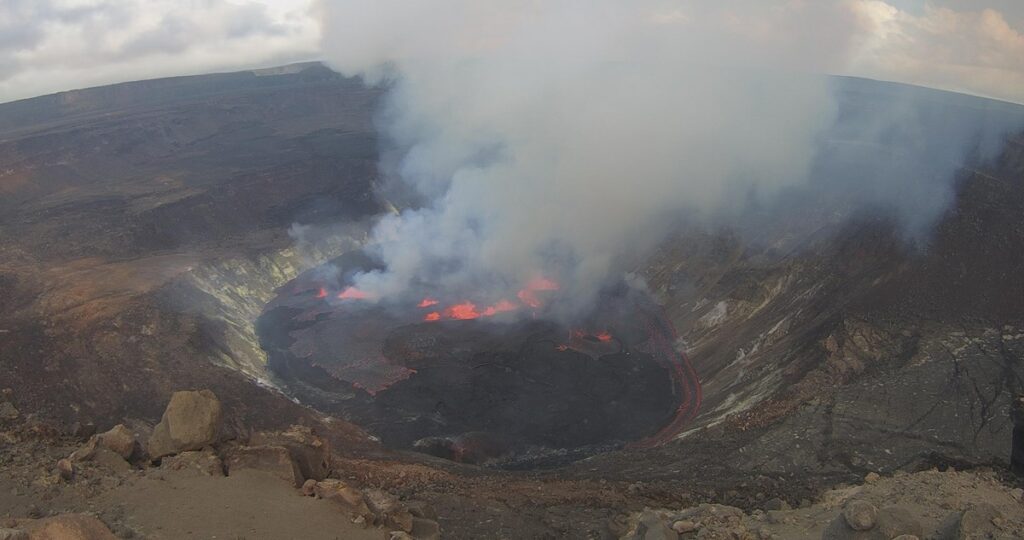 On September 29th of this year, however, a new eruption became evident in the Halema'uma'u crater, with fissures creaking open on the lake surface. After an extended summer vacation, we welcomed Pele (the fire and volcano goddess that calls Kīlauea home) and her lava back, just in time for Fall!
By day, pillowy plumes of volcanic gas and steam emerge from the now 127-acre lava lake, drawing visitors from near and far to the park and proving once again why Kīlauea Volcano is the most visited attraction on Hawai'i Island. Don't be surprised if you see koa'e kea, the white-tailed tropicbird, circling over the crater on occasion. And when the sun goes down, stick around to behold the glow of Halemaʻumaʻu's fiery reflection in the clouds of an otherwise ink-black sky.
See the Volcano
Day or night, our favorite viewpoints for seeing the eruption are along Crater Rim Trail, including:
Keanakākoʻi *
Kīlauea Overlook
Kupinaʻi Pali (Waldron Ledge)
Uēkahuna
Wahinekapu (Steaming Bluff)
*We have noticed that there is limited parking at the Devastation Trail parking lot, used to access Keanakākoʻi, so take this into consideration when planning your trip to Hawai'i Volcanoes National Park.
Stay Safe
Like any volcanic eruption, Kīlauea's activity can be hazardous, changing without warning. With that in mind, you may be wondering if a Hawai'i vacation is safe when the volcano is erupting … and that's a valid concern. Don't worry, visiting the Big Island during Kīlauea's eruption is a once-in-a-lifetime experience that you can enjoy safely if you take a few precautions when visiting Hawai'i Volcanoes National Park.
Stay informed. As of Oct. 6th, all lava activity is confined within Halemaʻumaʻu crater in Hawai'i Volcanoes National Park, where the lava lake has risen 7 feet in a mere 24 hours. That's a total rise of 102 feet since the eruption began on Sept. 29th. Before you head to the park, get the latest information about the new eruption here: Hawaii Volcanoes September 2021 Eruption
Stay on the marked trails. Even in broad daylight, earth cracks, sinkholes, and unstable cliff edges in the park are not always visible – and seismic activity is always possible on an active volcano. When visiting the park to see the eruption, it is critical that you stay on the trails and in designated overlooks. Please stay out of closed areas. The park closes these for a reason – Usually because some areas are still unstable from the 2018 eruption.
Socially distance. To mitigate the spread of COVID-19, maintain a distance of six feet from others who are not in your party and wear a mask when in Hawai'i Volcanoes National Park. Besides, with more volcanic gases in the air from the eruption, keeping your mask on in the park will make it a more pleasant visit.
Be Respectful
The summits of all five volcanoes on the Big Island, including Kīlauea, are sacred to the Hawaiians. Please be respectful of their traditions, allowing them to practice in private.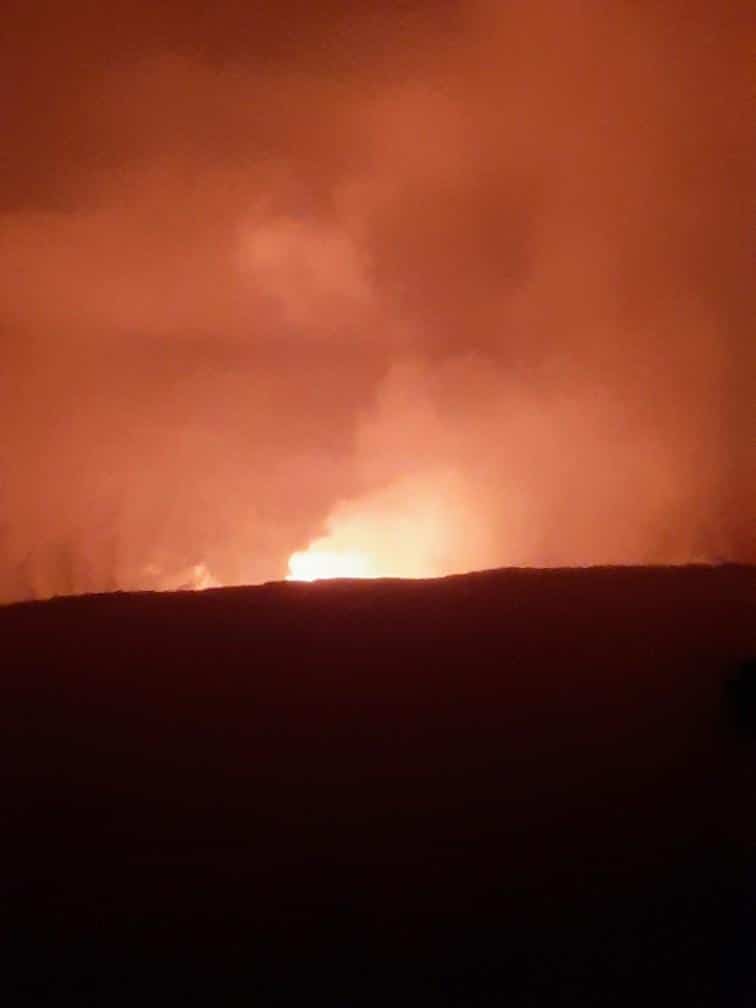 Gear Up
In Hawai'i Volcanoes National Park, it can be sunny one minute and rainy the next. And it can get chilly at the 4,000-foot summit. Before visiting the park, be sure you have the right gear for any kind of weather. Check out our blog about packing for your visit for more helpful tips: The Ultimate Volcano Hawaii Packing List.
The current eruption is just one of the reasons that Hawaiʻi Volcanoes National Park is unforgettable. Spanning 335,259 acres from sea level to Mauna Loa Volcano's summit, the park offers opportunities to hike to the ancient petroglyphs of Pu'u Loa, explore the newly reopened Thurston Lava Tube, and explore the Kilauea Iki Trail, to name a few!
Plan Your Visit to Volcano
Since there is so much to see and do in the park, many people choose to spend at least two nights in or near Hawai'i Volcanoes National Park, making Volcano Village the perfect place to stay!
The Ola'a House and Tutu's Place are vacation rentals conveniently located in the village, less than two miles from the park's entrance. Spend the day exploring Hawai'i Volcanoes National Park and spend the evening reminiscing about the marvel of a lake filled with red-hot lava from the safety and comfort of your historic Volcano Heritage Cottage. Book your stay today!