If you love hiking, don't rule out the Big Island when planning your next vacation. In Volcano, HI alone we have an abundance of adventures awaiting trail runners and hikers of all levels! 
And if you have a hiking bucket list, then you have to add the Kīlauea Iki Trail in Hawaii Volcanoes National Park to it! After all, how many chances do you have to gaze into a vent that spewed fountains of molten lava 1,900 feet high in the air?
You read that right! Kīlauea Iki, currently a 400-foot pit crater located next to Kīlauea's main summit caldera, erupted 62 years ago in what many experts regard as the 20th century's most dramatic volcanic event.
The year was 1959, and something was brewing in Kīlauea Iki's lava lake. Following a series of increasingly strong earthquakes, a spectacular eruption began on Nov. 14th when a wall of lava exploded from a half-mile long fissure in Kīlauea Iki.
Fun Fact: In Hawaiian, Kīlauea means spewing and iki means little!
A Bucket-List Hike
Set aside two to three hours for this nearly 3.3 mile hike from the Kīlauea Iki Overlook, and down into and across a solid lava lake. When it comes to parking, be aware that parking at Kīlauea Iki Overlook is extremely limited and there is a chance that parking will not be available during peak hours.
Tutu's Tips: You may encounter tourists tripping across the trail in slippers (flip flops). For your own safety, we do not recommend attempting this occasionally steep hike in anything but trail running shoes or light hiking boots!
We do suggest you wear sunscreen and carry a small pack that can hold a bottle of water, a snack, a rain jacket, and a hat to keep the sun and rain out of your eyes (it is possible that you'll experience both during your hike)! And always have your face mask handy, as this hike begins and ends in an area that can get busy at times.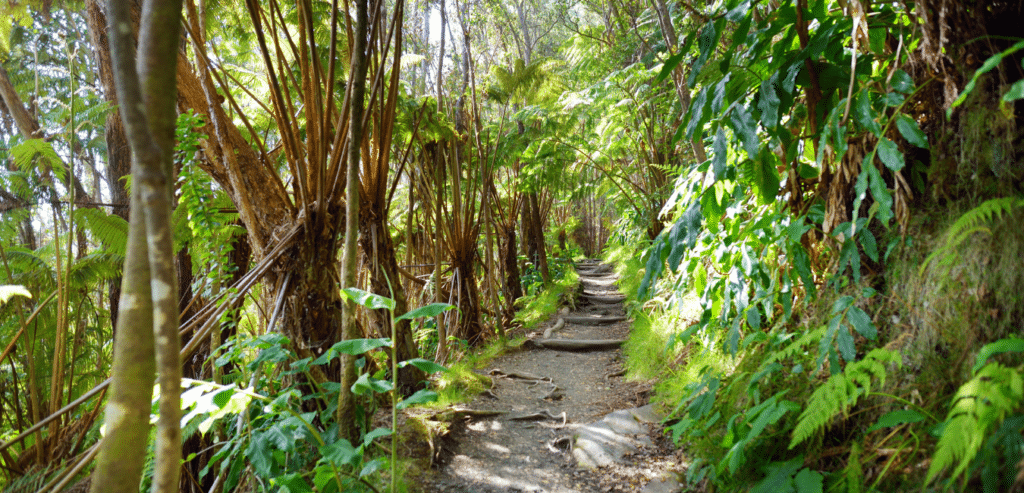 Begin your hike at the Kīlauea Iki Overlook on Crater Rim Drive. From there, we recommend that you head counterclockwise (to your right).
As you follow the well-marked trail along Kīlauea Iki's rim and descend 400 feet through the lush rainforest to the crater floor, look to your left. You may notice tiny ant-like dots moving along the grayish trail across the steaming crater floor. Those dots are actually hikers and you're about to join them on the sea of lava rock below.
Your trek around switchbacks, down steps, and over rocky terrain will lead you to the bottom, where you simply must take a moment to look up at where you came from!
As you follow the trail across the floor of the volcano's crater, imagine a roar as loud as thunder announcing a burst of red-hot lava on that November day in 1959.
Then, you'll hike back up, ending your journey at the Kīlauea Iki Overlook on Crater Rim Drive.
Tutu's Tips: Always stay on the trail for your safety, keeping your distance from ground cracks and unstable cliff edges. And the ahu (stacked rocks) you'll see on your hike mark the trail across the crater floor, so please do not touch them or build a new stack.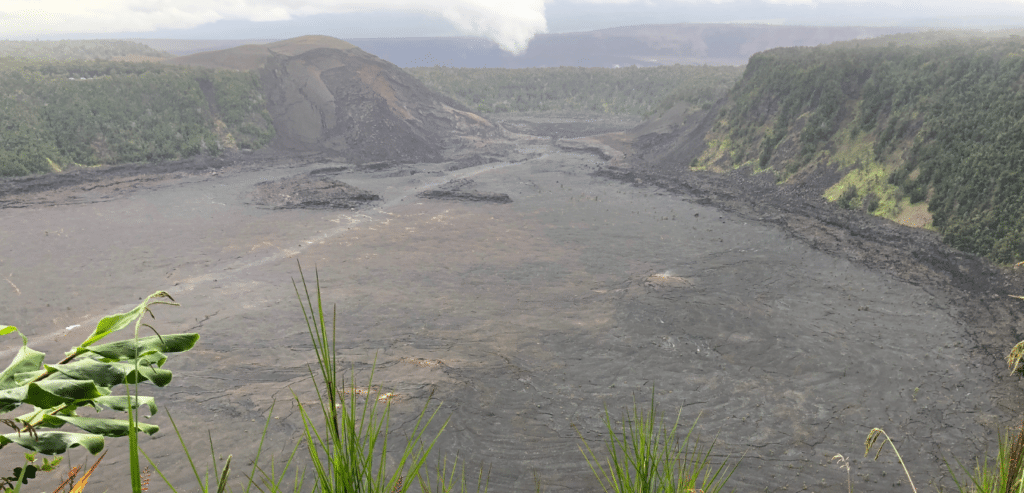 Up for a longer hike? For a scenic four to five hour adventure, begin at the Devastation Trailhead and enjoy exploring Uēaloha (Byron Ledge), the Kīlauea Iki loop, and the Nāhuku Lava Tube over the course of this six mile, round-trip hike.
If you want to stay close to the Kīlauea Iki trail and all the other magical experiences that Hawai'i Volcanoes National Park has to offer, you can't get much closer than the Volcano Heritage Cottages. Located in the heart of Volcano Village, Hawaii, our cottages are only five minutes from the park, so book your stay at Tutu's Place or the Ola'a House today!