On the slopes of Mauna Loa is an island on an island. A kīpuka where the old-growth forest and meadows tell a story nearly erased completely by lava flows. A kīpuka is an area of land surrounded by younger lava flows. It is essentially an island floating in a sea of hardened lava.
The Hawaiian word kīpuka means a change in form or variation. And here in Hawai'i Volcanoes National Park, you can explore our very own Kīpukapuaulu (Bird Park) – A kīpuka of native forest surrounded by more recent lava from Mauna Loa's Keamoku flow and the park's first Special Ecological Area.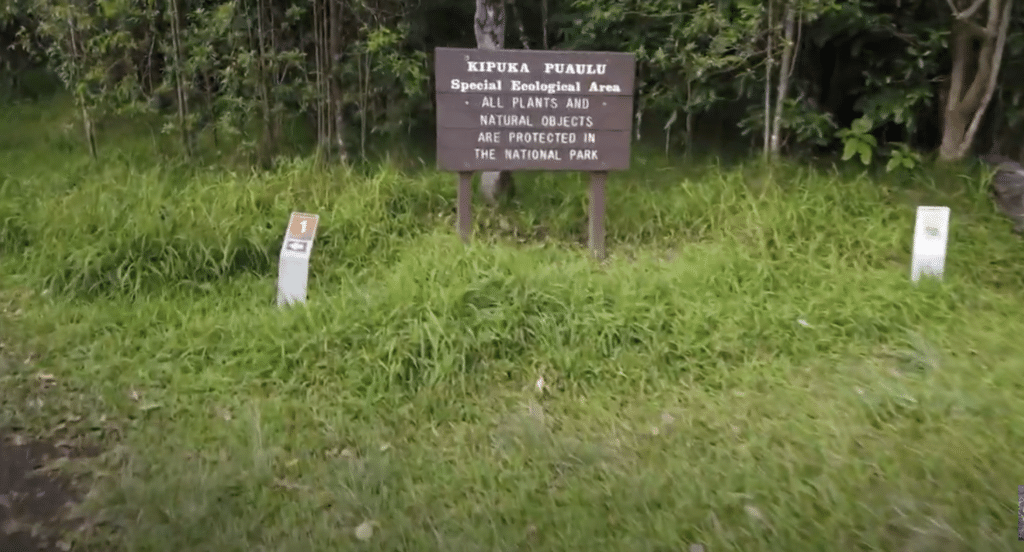 Click HERE to join Volcano artist and local runner Matt Holton as he heads out for a loop in Bird Park! 
The Best Time to Experience Kīpukapuaulu's Avian Life
Even if you aren't an avid hiker, you'll definitely enjoy this easy, 1.2 mile hike along a loop trail through well-protected rainforest. With a mere 250 feet of elevation gain, the trail's dirt path has subtle inclines and declines.
You don't need to set aside more than one to two hours for this hike, but you do need to plan to hike early or late in the day, as the birds that have given this park its namesake are not particularly active during the middle of the day.
If you ask us, the avian life found here is truly the highlight of the hike. And you don't want to miss seeing and hearing the array of rare, stunning birds in the kīpuka.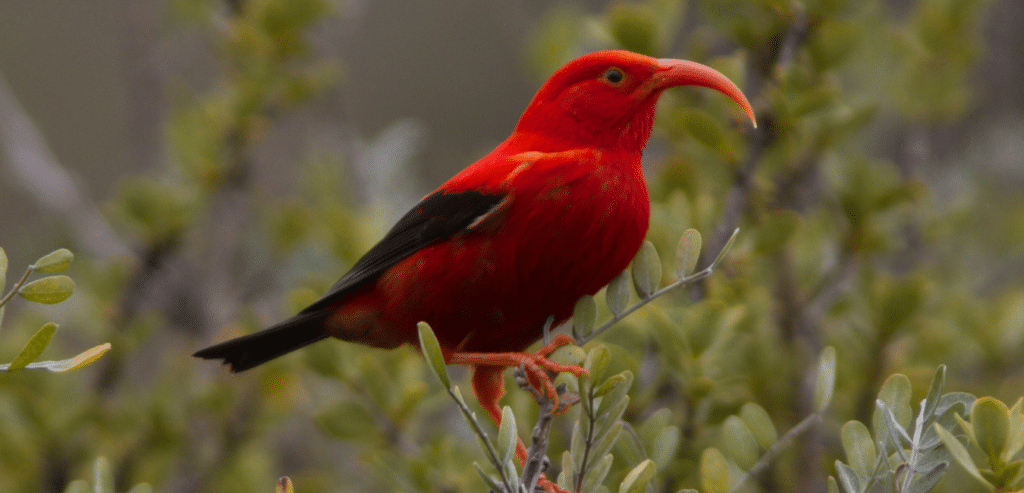 Honeycreepers are just one of the many birds that frequent Kīpukapuaulu
The Essentials for Hiking at Bird Park
This hike is at 4000′ in elevation. And although it occasionally gets hot, be ready for mostly cooler temperatures and weather conditions that can be windy, wet, or both!
When visitors to Volcano ask us what to bring for hiking at Bird Park, we always recommend water to drink, hiking boots or trail shoes, a hat to keep the sun (or rain!) out of your eyes, and a rain jacket. And don't forget to wear your sunscreen and bring your face mask in case the trail is crowded.
What shouldn't you bring? Bikes, dogs, or horses – Sorry, park rules! And no matter where you go in Hawai'i Volcanoes National Park, leave no trace by packing out what you bring in
There's More to Bird Park Than Birds!
If you take the time to stop, listen, and look around on this mostly shaded trail, you'll observe an abundance of birds, including honeycreepers and Kalij pheasants. The trail also features plenty of informative signs that explain the tropical forest's trees and other plants.
When you get to the halfway point of the trail, you may notice some decaying metal pipes and the steep entrance to a lava tube. Per the Park Service, visitors are prohibited from entering this lava tube!
As you head back toward Highway 11, you can see a short road. This paved road leads to four or five tree molds marked with metal pipes. Feel free to check out these fascinating tree molds, which formed when lava burned a tree away, then cooled in the shape of its trunk.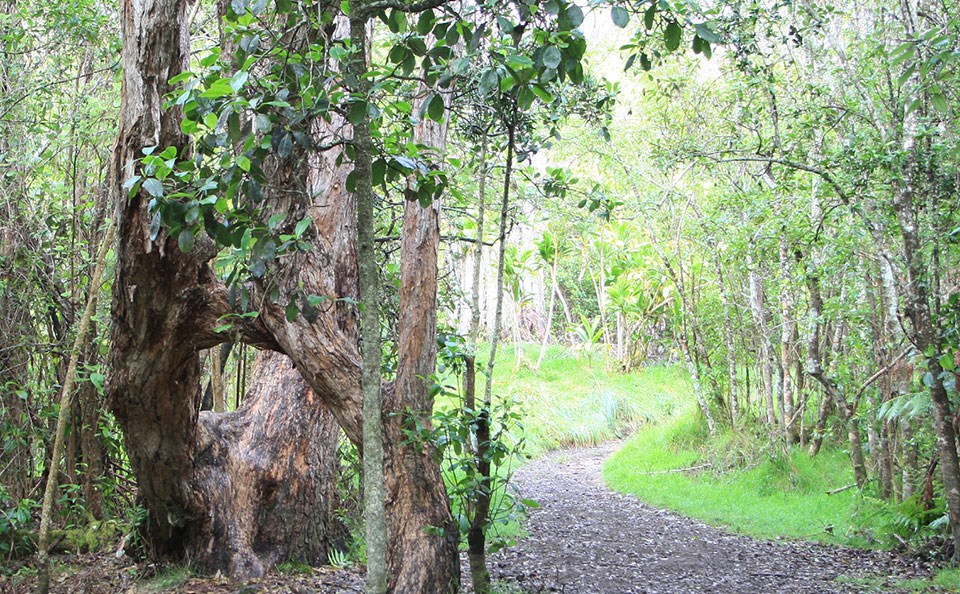 Kīpukapuaulu Trail: NPS Photo/Dave Boyle
The Best Place to Start … And Stay
Starting at the main entrance to Hawai'i Volcanoes National Park on Highway 11, head west and drive for a few miles. As you get closer to mile marker 31, you'll see Mauna Loa Road. Turn mauka (uphill) and drive for approximately 1.5 miles until you see the Kīpukapuaulu parking area.
From this circular parking area, cross the paved road to the east and you'll spot the trailhead kiosk. We recommend taking a moment to read the helpful information available at the trailhead and picking up a trail guide if one is available (a $2 donation is suggested) before taking the short trail to the main loop.
You have the option of following the trail guide and stopping at each numbered spot by going counterclockwise (left). If you're not following the order in the guide, feel free to go clockwise!
There's so much to see and do when visiting Volcano, and we recommend starting or ending your day of soaking in the stark beauty of the park with a walk on through the Kīpukapuaulu. It's a lush contrast to the rest of the park that will help you thoroughly appreciate the diversity of Volcano and the entire Big Island!
If you want to be as close as possible to all that Hawai'i Volcanoes National Park has to offer, and still have all the comforts and conveniences of home, we invite you to stay at the Ola'a House or Tutu's Place. To learn more about the accommodations that Volcano Heritage Cottages has to offer, visit our Booking page today!