Nestled in the shadow of majestic Mauna Loa, the Lili House Farm is a family farm in the agricultural area of Volcano on Hawai'i Island. The undeveloped beauty of this corner of Hawai'i will begin to work its magic the moment you turn down the country road leading to Lili House.
Stress melts away in the crisp morning sun shining down on a lush green stretch of farmland occupied by geese, goats, chickens, cows, one mischievous donkey named Arthur, and the other lovable animals that call the Lili House Farm home.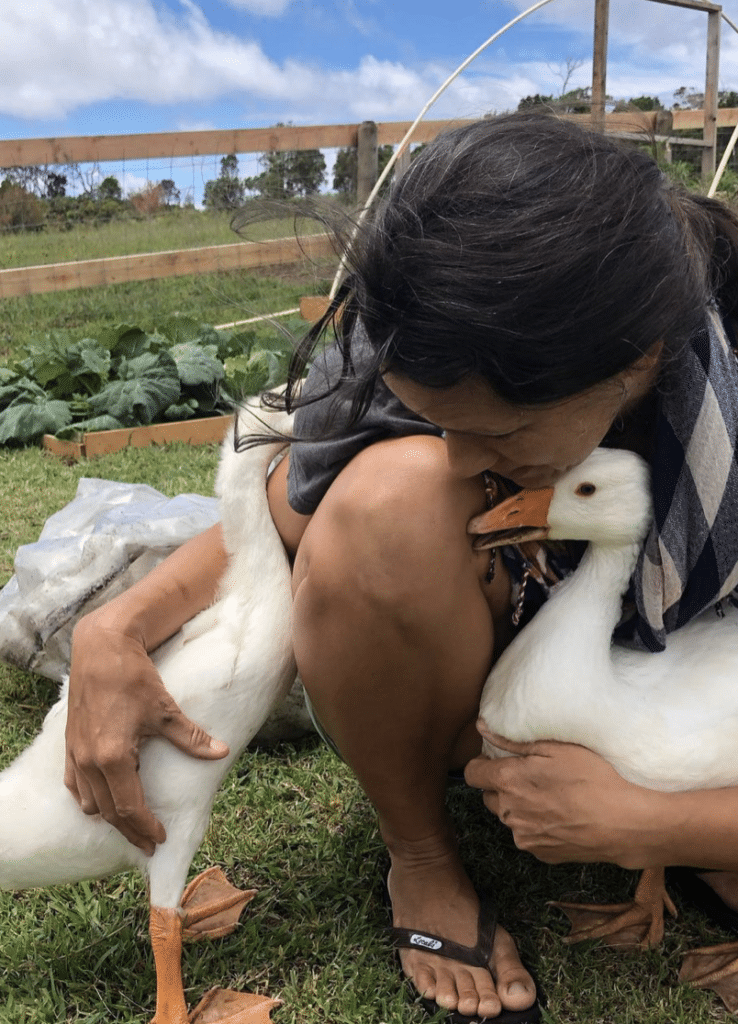 When you visit Lili House, you will likely be greeted with a warm aloha by Kainoa and Danielle Iranon, and within minutes, will find yourself sipping tea in front of the outdoor fireplace, savoring homemade berry scones freshly baked by Danielle and her daughter Kiana, and relishing country living… island style.
If you think you're just here to get a few cute pics of your family petting the potbelly piglets, you're in for a pleasant surprise. A trip to the Lili House Farm is more than a photo opp, offering an experience that is both educational and therapeutic.
As you begin the farm tour, you might even forget to pull out your phone for those photos. Feeling the heartbeat of a newborn goat as you hold him in your arms will have that effect on you.
"At the Lili House Farm, our goal is to show guests just how easy it is to make a loving connection with animals," says Hawaii Island-born and raised Kainoa. It's a connection that has never been more essential.
A Furry Pet or Feathery Friend is Good Medicine
"We have a real heart to show people how animals can dissolve stress with their presence, and be a lot of fun at the same time," Danielle says. And in light of the pandemic, we could all use a little stress relief these days!
Fortunately, playing with animals can elevate serotonin and dopamine levels, which produces a calming effect on both children and adults. And hugging or petting a furry or feathery friend has been shown to relieve stress, no matter what your profession or age, by lowering blood pressure.
Just visit the farm and behold the innocence of a Lili House Holland Lop bunny that fits in the palm of your hand, and you'll agree that such a simple act can definitely relieve anxiety.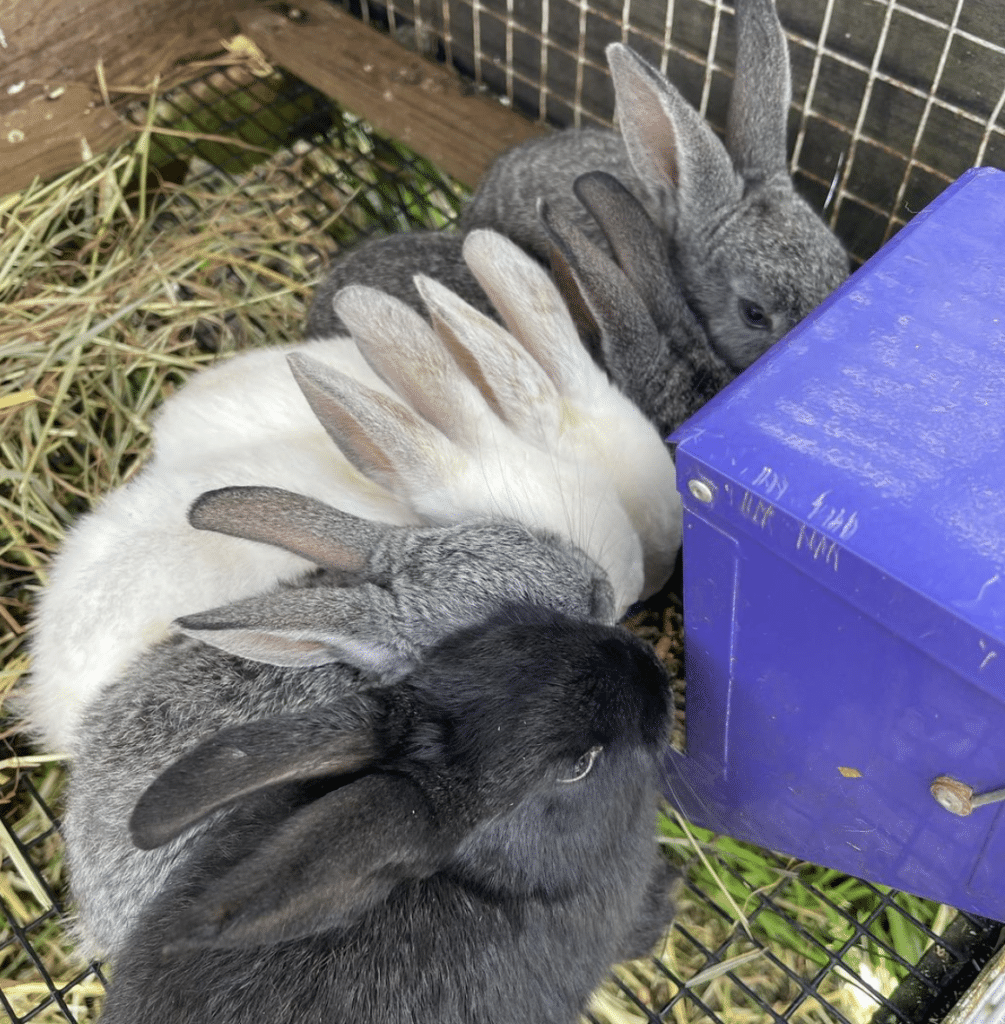 The Lili House Farm is at once the Iranon family's business, school, and home.
"Everything here is made from scratch," 11-year old Aurelius announces as he hangs from monkey bars made of a repurposed ladder. His brother, Legend, dashes out the backdoor and joins him, thrilled to take a break from his school work.
"And we have a tree fort there!" Valor says, hopping around in bare feet and pointing past his family's sheep and the neighbors' cows, to the woods.
The three youngest boys have already learned the skills to help their Dad with just about everything he builds, including the bunny village, complete with a cement walkway and fencing buried beneath the ground, and the chicken coop's shingles, paint, roof installation, and more.
"The kids also learn that caring for the animals is the priority," Kainoa points out. "It's a great way to teach your child responsibility. That's why we encourage the children who visit to feed the farm animals during their time here."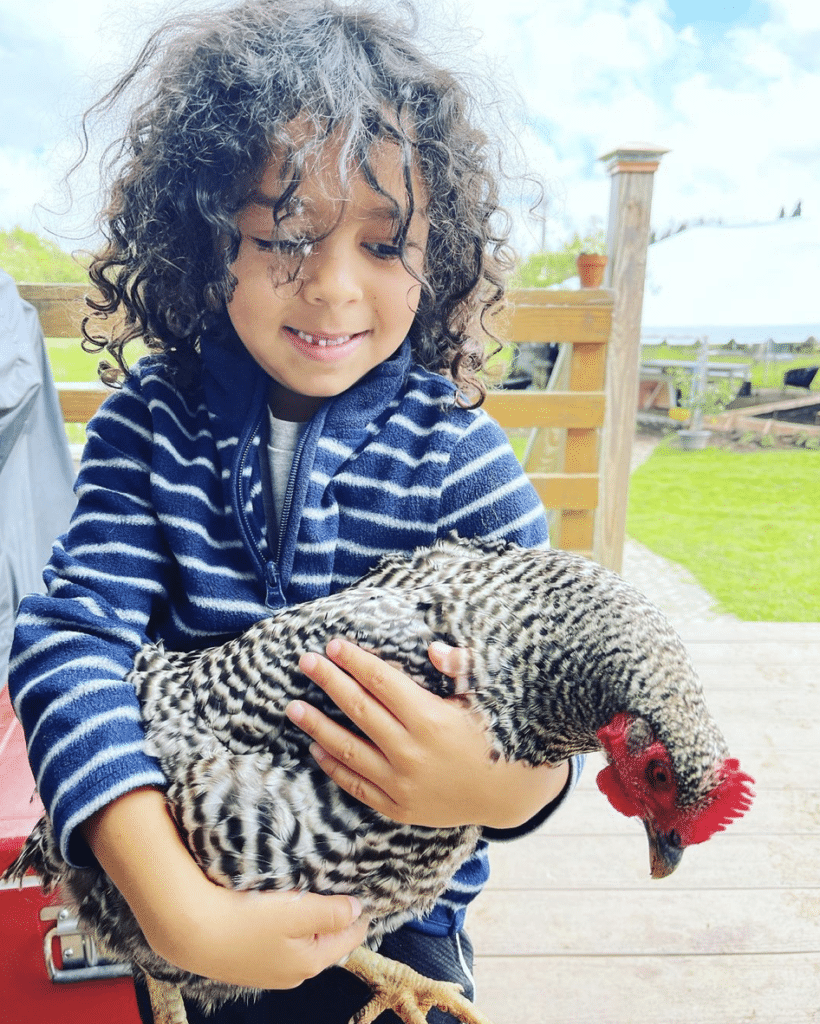 With over 100 animals – cows, horses, turkeys, chickens, tortoises, bunnies, goats (including a few ridiculously cute baby dwarf goats), sheep, geese, a donkey, a cat, a Peking duck flock and newcomers to the farm, the Kune Kune pigs, there is an abundance of opportunity to feed animals, pet them, and learn during your visit to the Lili House grounds.
An act as simple as feeding the ducks can be a gateway to learning for children who visit Lili House. And when their studies are done, the Iranon boys can often be found helping their parents answer the many questions that visitors pose.
"How much does that tortoise weigh?" is one of the questions you might ask as you wander across the petting zoo grounds with wide eyes, passing friendly cows on your way to feed the enormous, terrestrial turtles.
According to experts, playing with animals can spark a child's imagination and curiosity, leading to questions such as "What's growing on the roof of the rabbit house?"
Kainoa is pleased to answer, explaining the sustainable and economic benefits of growing grass for the bunnies, right above their adorable heads. Here on the farm, the Iranon's grow food for their own dinner table too, tending the kalo patch, gathering eggs from the hens, and harvesting fresh tomatoes from the garden.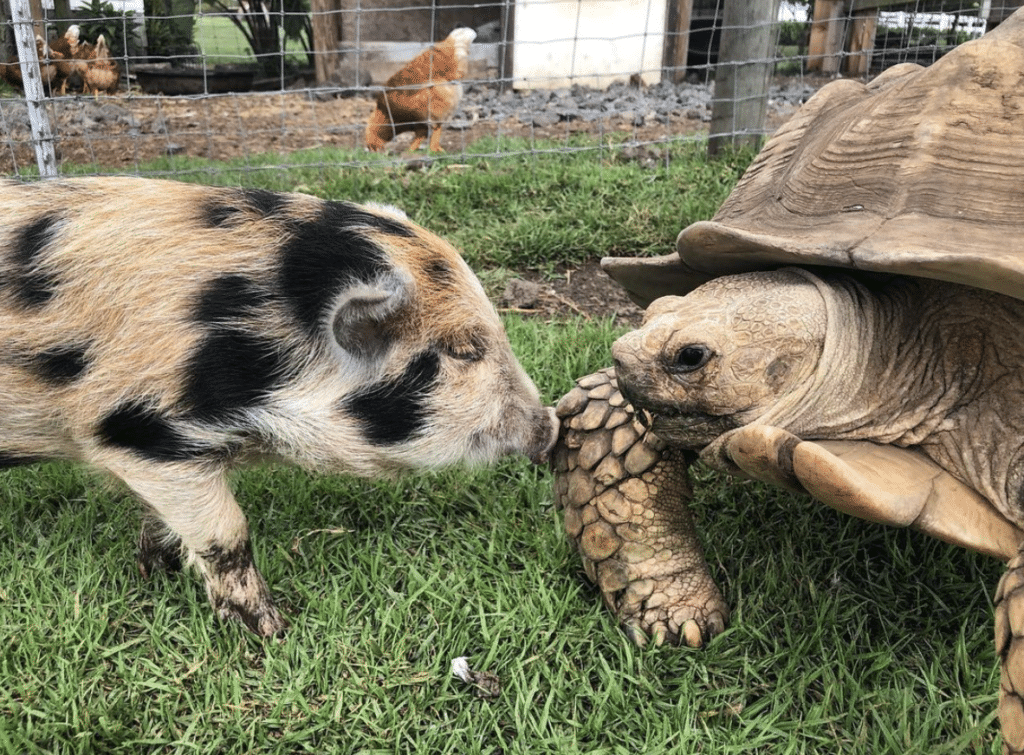 A Legacy of Aloha
Danielle and Kainoa have more than 25 years of experience working on a farm with an array of animals. Interestingly, the couple never meant to become farmers. Their plan was to return to California, where they first met.
"We were only stopping on Big Island to visit with family for a few months before moving to Northern California," recalls Danielle. In the end, they decided to stay on Big Island, choosing to build their life around what would prove to be the richest and healthiest upbringing for their children "in a place that keeps our hearts happy and at peace."
"We had this 20-acre ranch. And we love animals, so we decided to make the most of it," Kainoa recounts. "Our vision was to create an environment that is both memorable and comfortable for everyone who visits. One that perpetuates the legacy of my late grandmother."
Kainoa is referring to Lillian Rodrigues, who he describes as kind, warm, and full of grace. "We wanted to dedicate the farm to her in hopes of continuing her legacy of love and aloha to all."
As you walk away with a fresh loaf of bread, thinking about the sweet baby goat that you held in your arms moments before, you'll agree that a dose of pure aloha and the simple life, surrounded by animals and reconnected with nature, is good medicine indeed.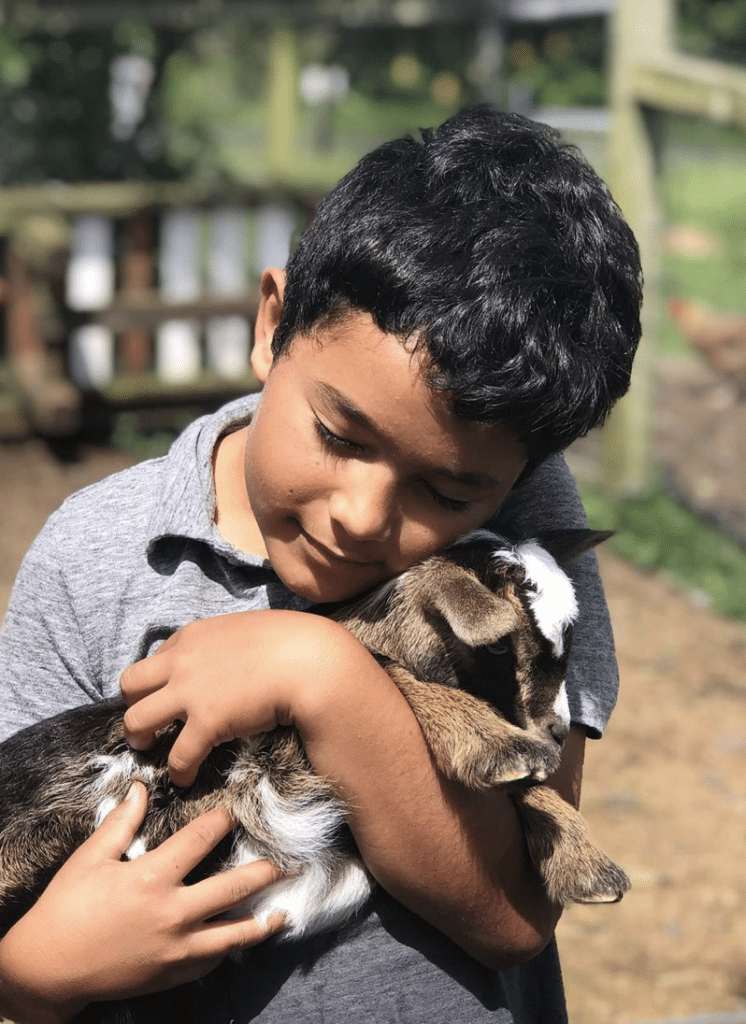 A Visit to Lili House
The Lili House Farm currently offers two tour packages. The Petting Zoo experience is a 1.5 hour tour of the petting zoo and farm. And the Deluxe Teatime and Petting Zoo experience is a 2-hour, full petting zoo and farm tour that includes a full country-style teatime with homemade bread, blueberry scones, hand-shaken butter, and strawberry-rhubarb jam. And don't forget the unlimited espresso coffee and tea from their new coffee bar!
If you're on Hawai'i Island and would like to reconnect with nature and schedule a petting zoo tour, visit the Lili House Farm Tour Packages. Our cozy cottages, Tutu's Place and the Ola'a House, are conveniently located within minutes of Lili House, so book your stay today and get ready to experience country living, island style!