Just a hop, skip, and a short 23-mile drive from our vacation rentals in Volcano Village is the historic town of Hilo, Hawai'i. Like Volcano, it can experience its share of rain. But temperatures in Hilo rarely dip below 60°F or climb above 86°F, and the result is a lush, green playground of waterfalls, coastline, and jungles.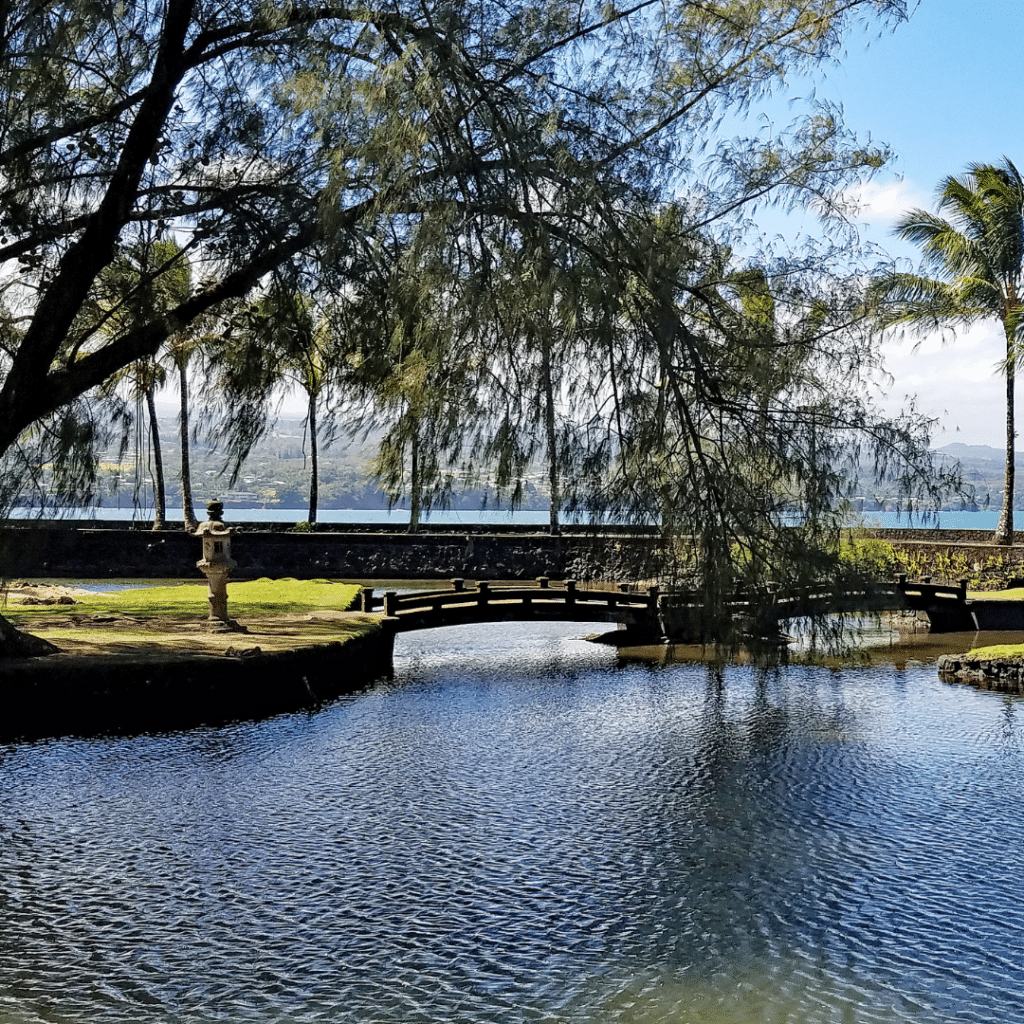 Around 1100 CE, Polynesians settled the area around Hilo Bay and established agricultural and fishing communities. By 1822, whaling and trade ships arrived to do business in Hilo. Sugar, however, was the city's economic pillar for decades.
Today, the population of Hilo is around 45,056. That's almost one-third of Hawai'i Island's residents! Although technically a city, Hilo has the laid-back vibe of a small town – One that happens to support a diversified Hawaiian economy of tourism, education, trade, government, agriculture, aquaculture, and ranching.
Ready to take a day trip to the town where Tutu grew up? Here are 19 of our favorite things to do when visiting Hilo!
Art
1) Inspired by Hawai'i's natural beauty and active lava flows, creativity abounds on the Big Island! Few talents highlight the wonder and diversity of the island better than photographers Bruce Omori and Tom Kuali'i. On display at the Extreme Exposure, their work features images of volcanic eruptions, lava delta, moon glows, and more, expressing the essential role that nature plays in Hawai'i life.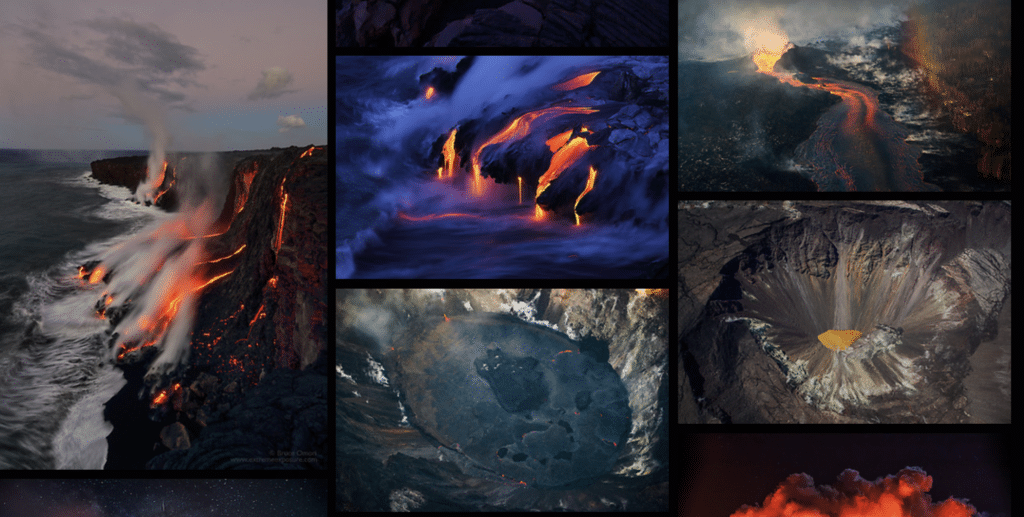 Museums
2) Affiliated with the Smithsonian, the Lyman Museum is a world-class museum that shares the story of Hawaii's islands and people through its exhibits and educational programs. Recently, the museum opened the Island Heritage Gallery, which presents a multifaceted, multicultural history of the Hawaiian Islands under one roof—something no other museum in Hawai'i offers.
3) The Imiloa Astronomy Center is an astronomy and culture education center featuring educational, historical, and cultural exhibits, as well as a planetarium. The planetarium's shows dive into the overlap between Hawaiian culture and astronomy. And the general public can once again connect with their inner explorer at Imiloa's planetarium starting July 24th.
Gardens & Waterfalls
4) Drive 7 miles north of Hilo and you'll find the most exotic botanical garden in all of Hawai'i, the Hawaii Tropical Botanical Garden. This bioreserve and garden attract gardeners, nature lovers, photographers, and tourists from across the globe, and it's easy to see why. Its trails and bridges lead you through a world of rare and endangered flora and past enchanting views of Onomea Bay.
5) With its fishponds, torii gates, pagodas, rock gardens, and Shoroan Tea House, the Liliuokalani Park and Garden is a peaceful, coastal garden with the distinction of being the largest authentic ornamental Japanese garden outside of Japan. In 1917, Queen Lili'uokalani dedicated the 20-acre park to the first Japanese immigrants who came to Hawai'i to work on the sugar plantations.
6) Known in Hawaiian as Waiānuenue (rainbow water), it is said that Hina, goddess of the moon, dwells in the lava cave behind Rainbow Falls. A mere five-minute drive from Hilo, this 80-foot waterfall is close to 100 feet in diameter and easy to access. If you go early in the morning, you'll have the best chance of seeing the falls' legendary rainbows, which means Hina is home.
7) Or venture a little further north to Hawaii's famed Akaka Falls. It's a stunning 400-feet tall and accessible via an easy, 0.4-mile hike on a looped trail through a lush jungle.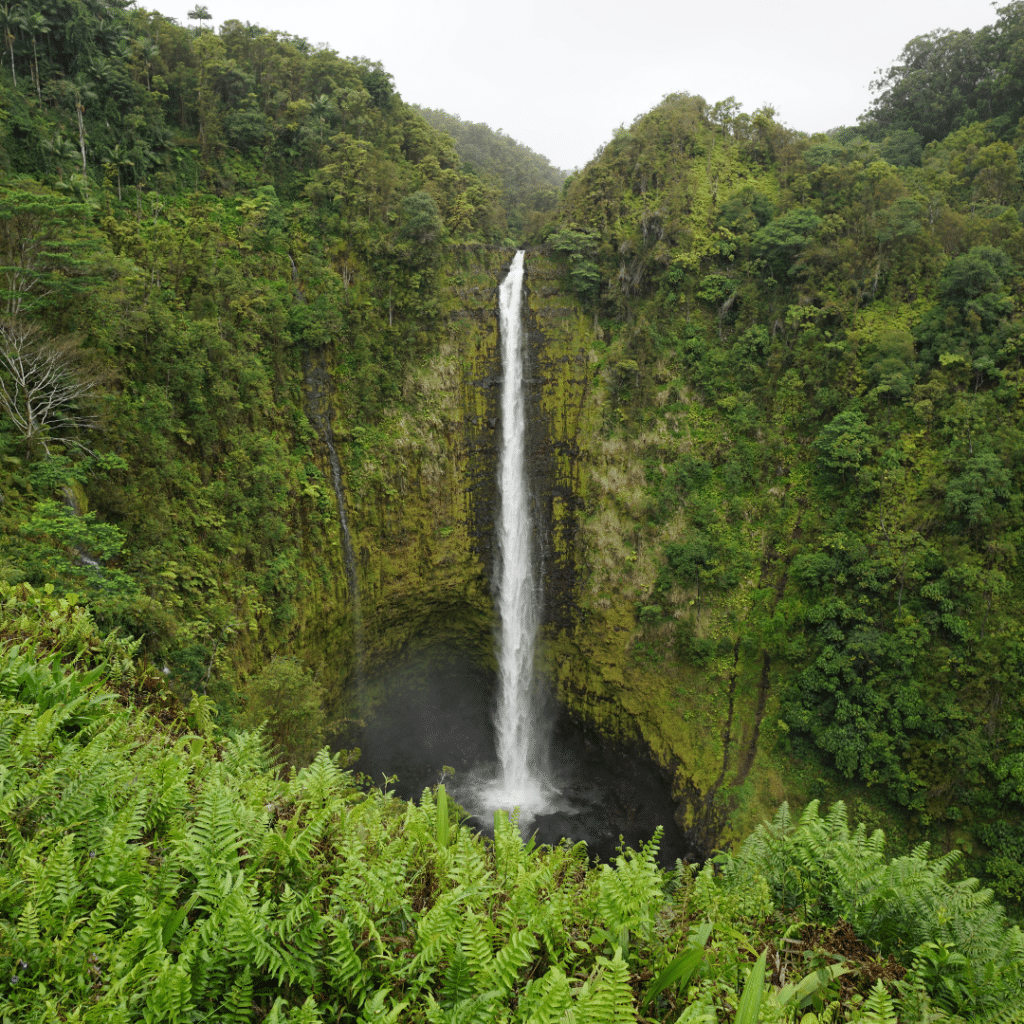 Outdoors
A drive along Kalanianaole Hwy. will take you to Hilo's hidden beaches and best snorkel spots!
8) Richardson Beach Park is a black sand beach ideal for snorkeling, swimming, and picnicking with your keiki (children). The shallow bay in front of Richardson Ocean Center boasts tide pools and the calm, spring-fed water is free of currents.
9) Located next door is Leleiwi Beach Park, another popular snorkeling spot. Leleiwi Beach's coves and natural ponds are home to tropical fish and honu (sea turtles). The park also has several pavilions, perfect for enjoying a scenic picnic after checking out the bay's marine life.
10) Carlsmith Beach Park is less sandy beach and more grassy park, and we're not complaining! Its smooth ocean bottom and lava rocks form a calm, protected area that we love to visit for a dip or to snorkel. When we're done, we roll out a towel for a picnic in the sunshine. And nothing says "island adventure" quite like a lagoon, so hop in one of the large ones at Carlsmith and keep your eyes peeled for honu (just don't touch them – they're a threatened species, protected under federal and state law)!
11) If you'd rather stay dry, rent a HIBIKE bike from one of four locations, and cruise down Hilo Bayfront Trails. Grab a bike from any of the Hilo kiosks, ride around, and drop it off at the same spot or another location when you're done. It's a healthy, fun, and convenient way to see Hilo!
Or turn your love of shopping into a sport, and holoholo (take a walk) along the Bayfront, where an array of boutiques and stores await. 
Shopping
12) For unique, original Hawaiian apparel, you can't pass up the Simply Sisters Boutique on Kilauea Avenue. Here you'll find Regina "Lola" Miller's hula-influenced accessories, apparel, and home decor. Hand-painted and hand-screened, Lola's designs truly capture the spirit of Aloha.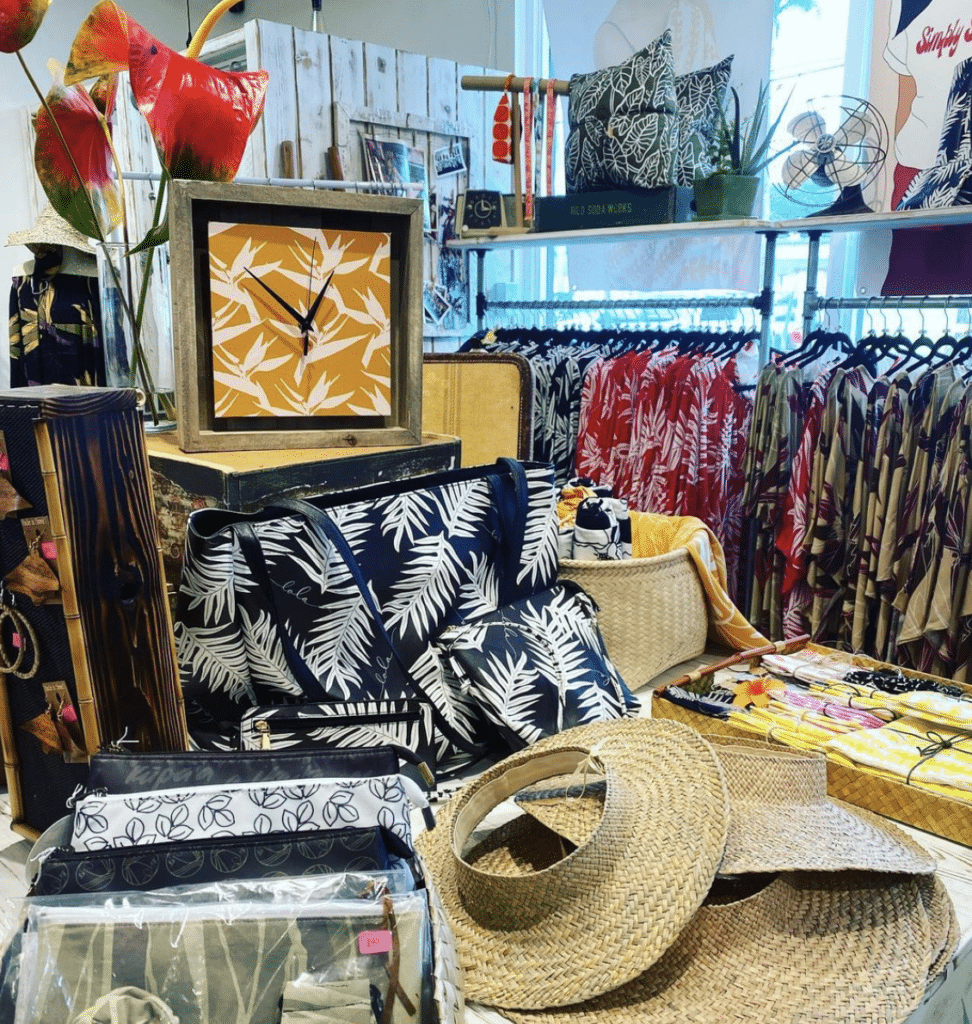 13) Since 1920, S. Tokunaga Store has provided everything anyone could need for diving, fishing, or hunting on the Big Island. And we especially love their selection of island-inspired Stainless Steel Flasks and Yeti bottles!
Once you've worked up an appetite shopping, you'll want to fuel up, so here's where to head for ono grinds (delicious food) and liquid aloha:
Eateries & Breweries
14) Breakfast is the most important meal of the day and at Ken's Pancake House, you can feast on macadamia nut pancakes, eggs, and rice no matter what time it is. Or go big with the sumo size loco mocos!
15) Looking for vegan and vegetarian eats? Stop by Vibe Cafe for good vibes and plant-based comfort food like their colorful jackfruit nachos!
16) Hilo Brewing Company keeps it local with their handcrafted beers, from the Tsunami IPA to their Volcano Red Ale. You may not be able to sample them all while visiting Hilo, but ordering a flight in the Tasting Room is the next best thing!
17) And aina-inspired Ola Brew now has a taproom in Hilo, so you can always quench your thirst with a tall, refreshing glass of beer, hard cider, hard seltzer, or even hard tea!
Farms & Markets
18) If it's Wednesday or Saturday, then the Hilo Farmers Market is the place to be. Find fresh Hawaiian fruits and vegetables, tropical flowers, local crafts, handmade jewelry, and more at this festive, outdoor market. Got a sweet tooth? Pick up some butter mochi if it hasn't sold out and don't forget the Hawaiian papayas when they're in season – The majority of the market's papaya is grown right there on Hawai'i's east side!
19) Visitors and locals agree, Suisan Fish Market has the best poke in Hilo! When you stand outside the market and watch the boats drift in with fresh ahi or ono, you'll sense that you've been transported back into old Hawai'i. Make Suisan's your last stop before heading back to Volcano, HI, and order a filet of your favorite fish on ice.
When you return to Volcano Village, you can whip up a salad with your fresh produce from the Hilo Farmers Market in the full kitchen at Tutu's Place or the Ola'a House, pair it with your mouth-watering poke, and talk story about the day you spent making memories in historic Hilo. Book a stay at one of our comfortable, charming cottages today. They're the perfect home base for your Hawai'i Island day trips!