Approximately 31 miles from Volcano Villages and the Volcano Heritage Cottages is the eccentric district of Puna. At almost 500 square miles, Puna is smaller than the island of Kaua'i, but not by much! 
Miles of quiet roads wind along the rural coastline and through vibrant rainforests, enveloping lush land where farms and nurseries abound like a fragrant lei. It's no secret that Puna is one of the best places in the state of Hawai'i for growing bananas, papayas, macadamia nuts, tea, tropical flowers, and more. But it's off the beaten path, so you might drive right past.
Don't make that mistake! This colorful corner of the Big Island is world's away from ordinary and worth the stop. Check out our top picks for what to see and do on a day trip to Puna, and you'll see why!
1. First stop, the town of Pāhoa!
Located in the heart of Puna, Pāhoa was almost destroyed by lava from erupting Kīlauea in 2014. In May of 2018, Pele made a visit to nearby Leilani Estates, where a fissure opened up directly under the subdivision. Unfortunately, it wasn't long before large lava flows swallowed up more than 700 homes in the Puna District.
Today, you can learn about the remarkable scientific discoveries that came with the 2018 eruption at the Pāhoa Lava Zone Museum. With unique volcanic exhibits and exclusive footage from recent eruptions, the museum also features historical flows and a new collection of artifacts. Visit the Pāhoa museum and learn about the fascinating history of Hawai'i's volcanoes!
Then grab some savory Mexican food at Coco Cantina or a smooth espresso from Kohala Coffee Co. to fuel the rest of your adventure, because you're off to …
2. The Painted Church
Once you reach the end of Pāhoa's main street, continue south on Highway 130 for about 10 miles until you reach the Star of the Sea Painted Church. In 1990, the light-green church was moved from the village of Kalapana shortly before lava ravaged the entire village.
Although its location has changed, the beautiful Hawaiian folk art adorning the walls and ceilings is still intact. The Painted Church's original location was the shoreline of your next stop…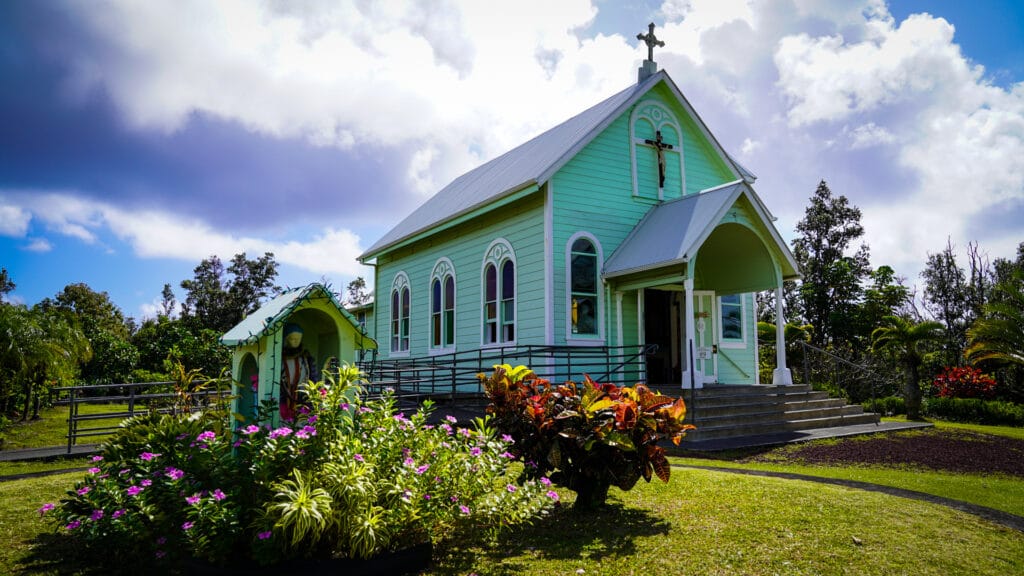 3. Kaimū Black Sand Beach!
Park your car where Highway 130 hits Highway 137, hop out, and consider this as you gaze out at the ocean: The original Kaimū shoreline was once incredibly close to the houses you will park by. Today, the bay is entirely filled in by lava. To reach the new beach, walk around 300 meters across the new land formed by Pele.
This new black sand beach is being formed a mere 50 feet above the old bay's beach. Due to the strong waves and currents, don't attempt to swim or snorkel here. This beach is, however, the ideal spot for witnessing Pele's power to destroy and create.
Worked up an appetite yet? Great, because you're off to…
4. Uncle Robert's Awa Bar
At the end of highway 137, you'll find Uncle Robert's Awa Bar and Farmers' Market. Note that this is also where the 1990 lava flow buried most of Kalapana. And in 2018, there were months when the lava flow made the town inaccessible.
Today, you won't have to worry about lava (last we checked) keeping you from a snack at Uncle's Awa Club in Kalapana, a kava bar open throughout the week! And if it's Wednesday evening you're in luck, as the friendly, festive Kalapana Night Market comes alive at 5 pm and the Kalapana 'Awa Band entertains almost 1,000 people each week. In addition to live music, this weekly, open-air market also boasts fresh produce and delicious food from local vendors.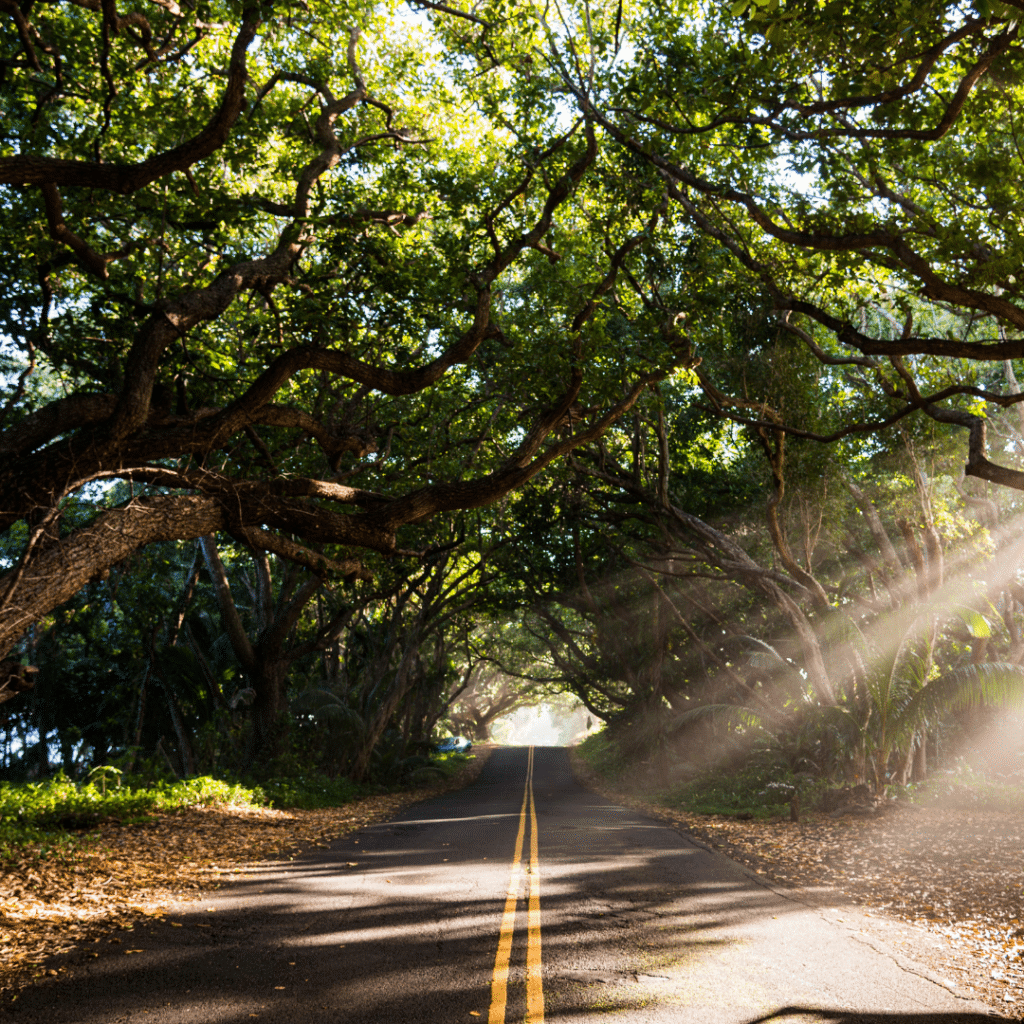 A Tip from Tutu: Be respectful when visiting Kalapana and obey the house rules when at the market.
On Saturday mornings, you can also visit the Hoolaulea Farmers Market, which includes a smorgasbord of eateries and vendors. Grab a slice of hot pizza, an organic meal, or a local lunch plate like the "Hawaiian Nachos." Or stop by Uncle's 'Awa Bar to sample 'awa (the Polynesian drink Kava) or sip a refreshing, tropical beverage at the Kalapana Smoothie Shack before following…
5. The Famed Red Road
At the intersection of Highway 130 and 137, head north along the Puna coastline. Known as the Red Road, this 11-mile stretch of Highway 137 winds past tropical coconut groves, lush rainforests, rugged lava fields, and old plantations.
As you drive along this scenic road, it's easy to see how the volcano goddess Pele's creative presence has attracted some of Hawai'i Island's finest artists to the Puna area. In fact, it is said that Puna is Pele's workshop. At Pohoiki Bay, she continues to create and reshape the very land – and the sand – beneath our feet! 
Part of Isaac Hale Beach Park, Pohoiki Black Sand Beach is now one of Pele's newest black sand beaches. This stunning, diverse natural area includes ocean thermal ponds, a recreation area, a popular surfing spot, and of course, the new beach. Here, you can see where lava cut off the highway and flowed into the ocean before forming Pohoiki.
Before heading back to Volcano, there's one more detour to make…
6. Cape Kumukahi
Turn left at the intersection of Highway 137 ad Pohoiki Road, then right onto Kapoho Road (Highway 132). When you get to the end of this road, you'll notice Kapoho Bay to your right and the Cape Kumukahi Lighthouse to your left.
In 2018, slow-moving lava transformed what was once a bay known for its beach homes and turquoise waters into a field of lava. We have heard of daredevils hiking to the lighthouse, but we don't recommend trying this yourself, as fresh lava can be sharp and unstable.
A Tip from Tutu: Tutu knows the people of Puna well, as one of the homes in Kapoho that is now under 50 feet of lava belonged to her. Puna's residents are both resilient and welcoming, but do keep in mind that they are still recovering from the eruption of 2018 and do not appreciate being the recipients of disaster tourism. When visiting, drive with aloha, pay attention to signage and directions, slow down, don't park on private roads, and don't trespass on private property,
After a day in Puna, you won't look at Kīlauea's summit in Hawaii Volcanoes National Park the same again. It's mind-blowing to see Halemaʻumaʻu (the summit) and realize that it is the source of volcanic forces of destruction and creation that have changed the land and lives of those near and far. To be close to both the park and Puna, book a stay at Tutu's Place or the Ola'a House in Volcano, Hawai'i today!