Every Sunday morning, residents and visitors to Volcano, Hawai'i roll out of bed bright and early to partake in what's become a weekly tradition around here – A visit to the Volcano Farmers Market! Whether it's chilly and rainy or a glorious, sunny morning, you'll find many of us starting our Sundays at the Cooper Center, baskets and reusable bags in hand.
Since June is National Fresh Fruit and Vegetables Month, it's the perfect reason to skip the frozen fruit, canned veggies, and packaged food and opt for the fresh, locally-grown produce you'll discover at the Volcano Farmers Market.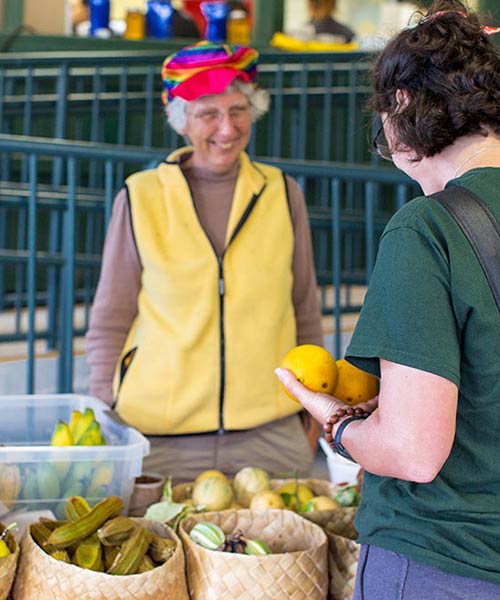 And if you are leaning toward a vacation that emphasizes eco-tourism, you'll feel good knowing that our weekly Farmers Market in Volcano Village supports the local economy while encouraging a more sustainable Hawai'i.
As if you needed more reasons to shop at the Farmers Market while on your Hawai'i Island vacation, consider that buying directly from local farmers means a better return for their produce, giving them a fighting chance in the globalized economy of today.
Find it at the Farmers Market
An abundance of produce, handcrafted goods, and homegrown food await eager shoppers who arrive when the market opens at 6am sharp. Some shoppers even come from as far as Hilo and Ocean View for food as diverse as the island itself!
Taking place every Sunday at the Cooper Center (our community center on Wright Rd.), the Farmers Market has been a staple in Volcano Village since the 1980s. From 6am to 10am, this Farmers Market is sure to bring some color to your week… and your dinner table!
A destination for artists, farmers, visitors, and neighbors, our Farmers Market is the place to find Hawaii-grown coffee, organic produce, poi, grass-fed beef, locally-sourced beef from Ka'u, and exquisite flowers and plants from the Volcano area. There are also prepared dishes, divine pastries, and the biggest, most savory pierogies we have ever seen (and tasted!) as well as candy, jams, and jellies.
Although the market technically stays open until 10 AM, the most popular items are sold out by 9 AM. Get there early so as not to miss out on the farm-fresh eggs, popular cuts of meat, freshly baked sourdough bread, fresh strawberries and blueberries, and mangoes in season.
As the saying goes, "You will find it at the market!"
Don't forget to peruse the goat milk soaps, carved woods, handmade shirts, and stunning kimono. And after you work up an appetite shopping, grab some steamy Ka'u coffee and a hot breakfast, or pick up lunch to enjoy once you get back to Tutu's Place or the Ola'a House.
At Volcano Heritage Cottages, you can take advantage of the full kitchens in each vacation rental and easily whip up a home-cooked meal from the bounty of food you gather at the Farmers Market.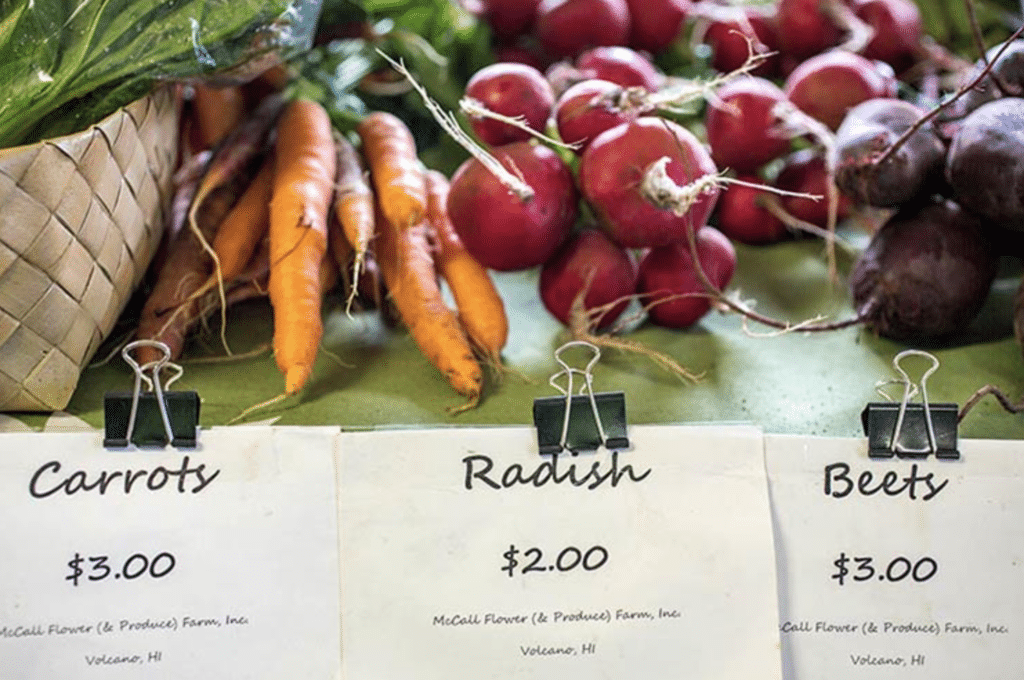 A True Taste of Island Living
Volcano Heritage Cottages are two fully licensed vacation rentals that are only five minutes from Hawai'i Volcanoes National Park. Located in the heart of Volcano Village, an artists community in the tropical rainforest of Hawaii's Puna Moku (district), our cottages are an ideal vacation destination for those who want a true taste of island living.
The Cooper Center is easily accessible from the Volcano Heritage Cottages, making our vacation rentals the perfect home base for exploring the Center and beyond while visiting the Big Island. Book a stay at Tutu's Place or the Ola'a House in Volcano, HI today and get ready to experience the many flavors of Hawai'i!