With summer on the horizon, we're starting to plan our day trips from Volcano, HI. And we're so excited to be able to add the Kona Trail and Glover Trail in Hawai'i Volcano National Park's Kahuku Unit back to our summer itinerary. If you're getting ready for a vacation in Volcano, you'll definitely want to include a drive to Kahuku in your plans!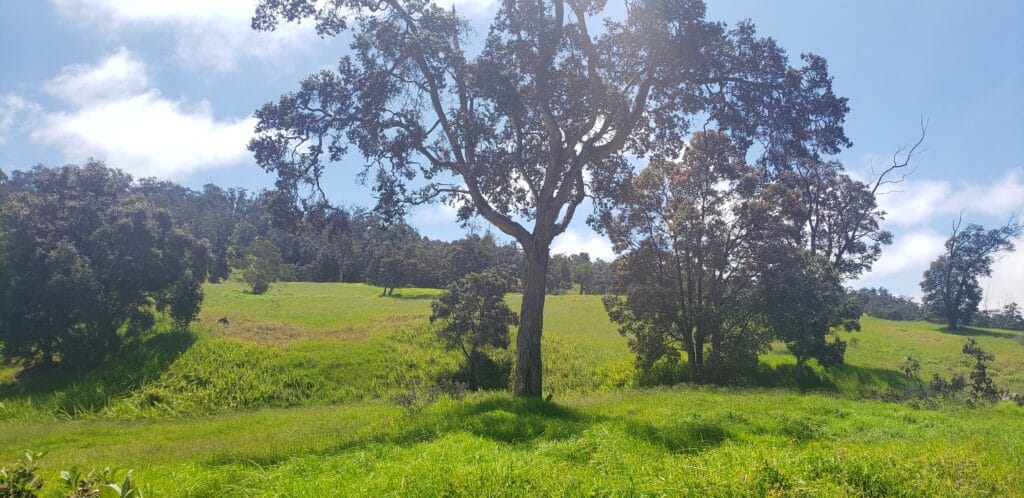 The History of Kahuku
Located on the slopes of Mauna Loa in Ka'u, this upland park was once used by native Hawaiians for warfare, gathering resources, religious sites, and other important purposes.
By the 1900's, Kahuku had grown into one of Hawai'i Island's biggest cattle ranches. And in 1912, the Parker Ranch acquired all 159,000 acres of Kahuku, 5700 acres of which would become part of the new Hawai'i Volcanoes National Park a few years later. In 2003, the entire ranch became part of the park.
Today, the cattle no longer roam Kahuku's pastures. To restore the natural habitat, native seedlings have been planted and native forest birds once again grace the branches of the rare mamo lehua (yellow flowering) ōhiʻa trees.
For the past several years, both the Glover and Kona trails have been closed in an effort to protect the ōhiʻa from Rapid Ohia Death (ROD), a deadly fungus that has threatened to wipe out our precious ōhiʻa trees.
On May 13, however, Hawai'i Volcanoes National Park reopened these two Kahuku trails, as well as the Kahuku Visitor Contact Station (VCS). Stop by the lower trailhead across from VCS to pick up a complete Kahuku Forest Trail Guide.
Fun Fact: The National Park's Kahuku Unit is larger than the island of Oahu!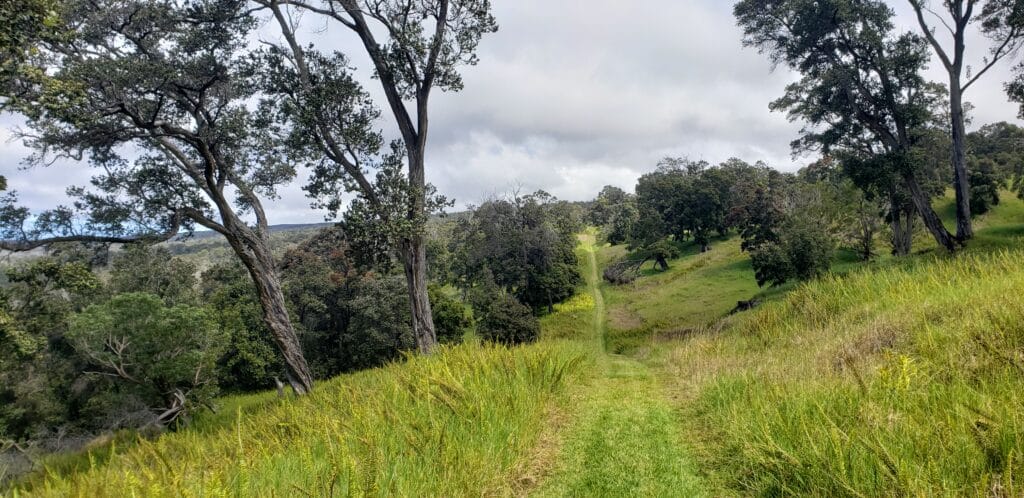 Hiking in Kahuku
Anyone who wants to wander through Kahuku's grassy expanse of rolling hills and
ōhiʻa-fringed trails have plenty of enchanted options to choose from, but today we'll look at the Kona Trail and Glover Trail since we've been awaiting their opening for a while!
Begin at the ROD Quarantine Gate, where you will clean your hiking shoes or boots at the new ROD decontamination station before and after hiking on either trail. From there, enjoy a scenic 1.2-mile walk through a wooded landscape to the lower Glover and Kona trailheads.
Here you'll notice the cattle corrals, a nostalgic reminder of Kahuku's ranch days. There's also a picnic area on the way to the trailheads with breathtaking vistas of Ka Lae (South Point) and the Ka'u coast.
The Kona Trail is a 4.6-mile loop with 520-foot elevation change defined by the 1887 lava flow and a pastoral landscape. For a total of 7 miles round trip, add in the 2.4 miles to and from the trailhead.
With a 320-foot elevation change, the Glover Trail is a 3.2-mile hike to the edge of an enormous pit crater whose walls guard a pristine rainforest. Include the 2.4 miles to and from the trailhead for a total of 5.6 miles round trip.
Tutu's Tip: Albert and I like to picnic atop a pu'u (hill) to see the shoreline, smell the sweet mountain air, and watch the windmills turning in the stiff ocean breeze. En route to the park, we often stop at Punalu'u Bakery to grab a takeout sandwich and a mouth-watering malasada for our picnic lunch.
Kahuku's Hours and Park Policies
The Kahuku Unit is open Thursday through Sunday and it's always free to visit this park! Kahuku opens at 9 AM and closes at 4 PM sharp, so plan for an early start if you'll be hiking the Kona Trail or Glover Trail.
We need your kokua in keeping the ōhi'a trees safe from ROD and each other safe from COVID, so please follow all park guidelines. Visitors are required to wear a mask in the VCS and other park service buildings, however, masks are only required outdoors if social distancing is not possible.
For the health and safety of everyone, please stay on the trail and keep an eye out for ground wasps. You'll also want to steer clear of unstable cracks in the lava fields and the cinder pit's cliff edges.
Tutu's Tip: We always recommend both rain gear and sun protection, since it's not unheard of to experience both on the same day! Wear sturdy trail shoes or hiking boots, and carry plenty of water. If you aren't bringing a lunch, we do recommend packing a snack at the very least. It's the perfect excuse to take a hiking break and enjoy the view!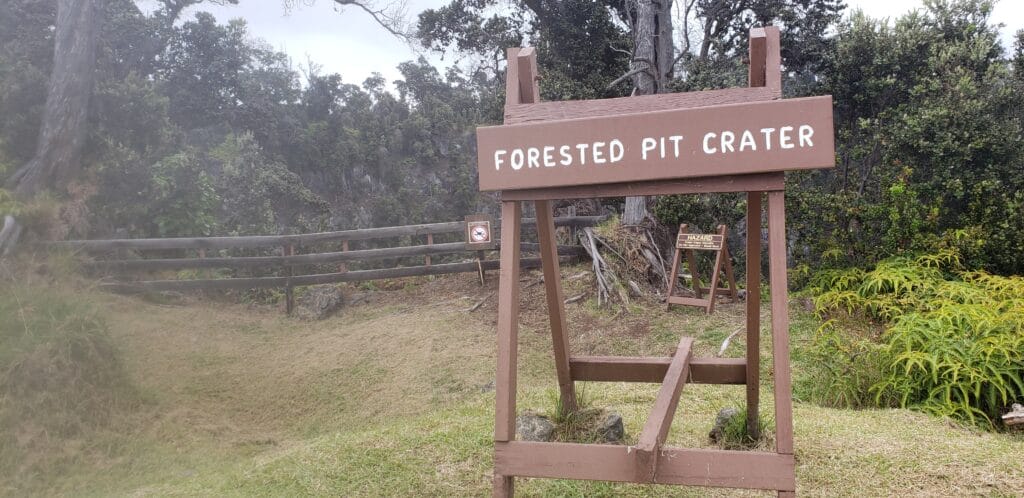 The Kahuku Unit is conveniently located 44 miles from the Volcano Heritage Cottages, making them the ideal home base for your Big Island vacation. To get to the Kahuku Unit and explore the newly opened trails, head south on Highway 11 towards the southernmost point in the U.S, Ka Lae. Look for signs to turn right onto Kahuku Rd. near mile marker 70.5 of Highway 11, on the mauka (mountain) side.
After a day of Hawai'i Island adventures, you'll love coming home to the comforts of your cottage! Book a stay at Tutu's Place or the Ola'a House in Volcano, Hawai'i today.