April showers bring May flowers!
Or so the nursery rhyme goes. But according to an ancient Hawaiian mo'olelo (story), it's the flowers that bring the showers! And not just any flowers, but the vibrant flowers of the iconic ʻōhiʻa lehua tree, which grows throughout Hawaiʻi.
If you're visiting Volcano Village, you won't have to go far to find the ʻōhiʻa tree (metrosideros polymorpha) and its scarlet lehua blossoms. There an abundance of ʻōhiʻa right here on Hale Ohi'a Road, where our cottages are located and you can admire quite a few while relaxing in the backyard at Tutu's Place.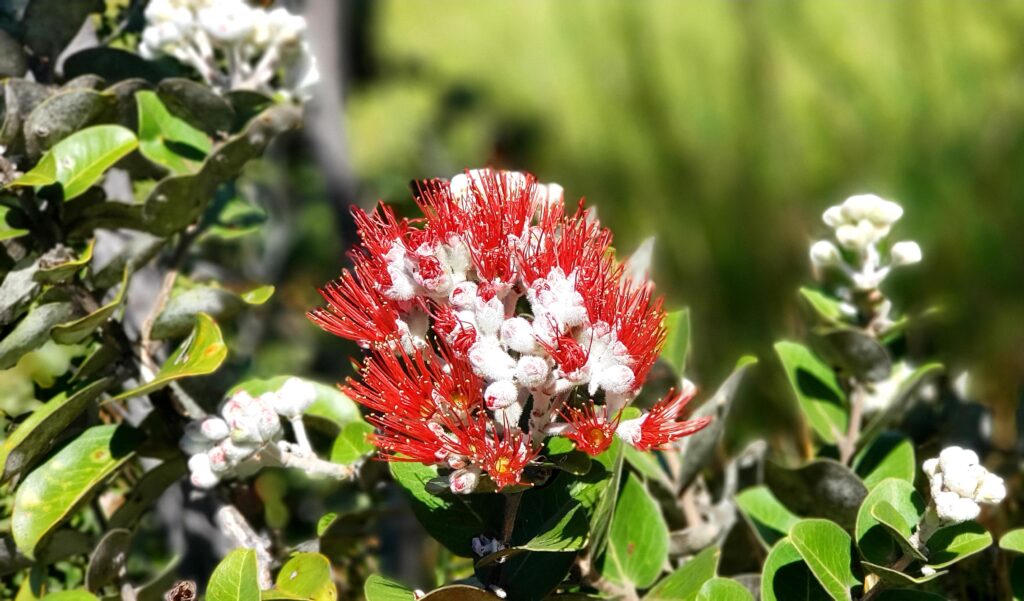 Less than two miles from our Volcano Heritage Cottages is Hawai'i Volcanoes National Park, where the 'ōhiʻa lehua is a common and stunning sight against the contrast of the stark lava fields. Endemic to the Hawaiian Islands, the tree can even be seen growing in yards around the village! 
The iconic ʻōhiʻa lehua is an intrinsic part of Native Hawaiian culture, and this is its story:
The origins of the 'oʻōhiʻa lehua
One of the most popular Hawaiian mo'olelo tells of how Pele, goddess of volcanoes and fire, met a strong, attractive man in the forest one day. His name was ʻŌhiʻa and Pele was infatuated with the handsome warrior.
ʻŌhiʻa denied her advances, however, as he had recently married his true love – A maiden as fair as a flower by the name of Lehua. In a fit of irrational jealousy, Pele transformed ʻŌhiʻa, into a twisted, hideous tree. The heartbroken Lehua begged Pele to reverse this unbearable act, but to no avail. Pele refused.
Lehua then looked to her ʻaumakua (deified ancestors) to intervene and a compromise was reached. To ensure that the lovers could be together forever, Lehua's ʻaumakua reached down and transformed her into the gorgeous flower that brightens the branches of the ʻōhiʻa tree today.
That is why it is said that you should never pick the ʻōhiʻa lehua's flower, as Lehua cannot bear to be separated from her beloved husband. If the ʻōhiʻa flower is picked, rain will begin to fall like tears, as Lehua cries for her ʻŌhiʻa.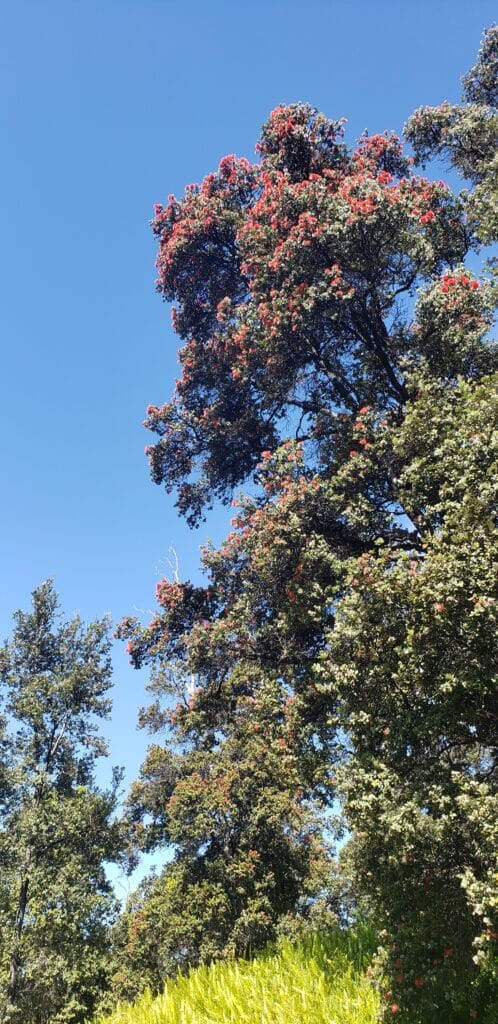 The plight of the ʻōhiʻa lehua
There are five ʻōhiʻa lehua species, all of which are endemic to Hawaiʻi and hardy enough to be the first tree species to colonize lava flows. The ʻōhiʻa's flowers blossom in an array of colors, from crimson and coral to yellow and, on rare occasions, pearly white. The flowers' nectars are a source of food for many native Hawaiian birds, including the ʻapapane.
Historically, native Hawaiians used the ʻōhiʻa flowers for medicinal purposes and the tree's wood to make kapa cloth beaters, musical instruments, boards for poi pounding, farmers' tools, warriors' weapons, and for building structures.
Today, the 'ōhi'a essentially holds the forest together, transforming unlivable lava fields into thriving forests. Contributing to wildlife habitats, the replenishment of groundwater, and healthy air quality, 'ōhi'a plays an integral role in the overall health of Hawai'i's ecosystem.
But in 2014, it was discovered that an invasive fungus, Rapid 'Ohi'a Death (ROD) was beginning to attack and kill 'ōhi'a on Hawai'i Island. By 2018, it was reported that hundreds of thousands of 'ōhiʻa trees had died from this fungus on Hawai'i Island alone. Since then, the blight has spread to Kauaʻi, Maui, and Oʻahu.
The death of so many 'ōhi'a forests has the potential to cause disturbances that could negatively impact watersheds and natural resources, as well as pose a significant threat to the multitude of native animals and plants that the forests support.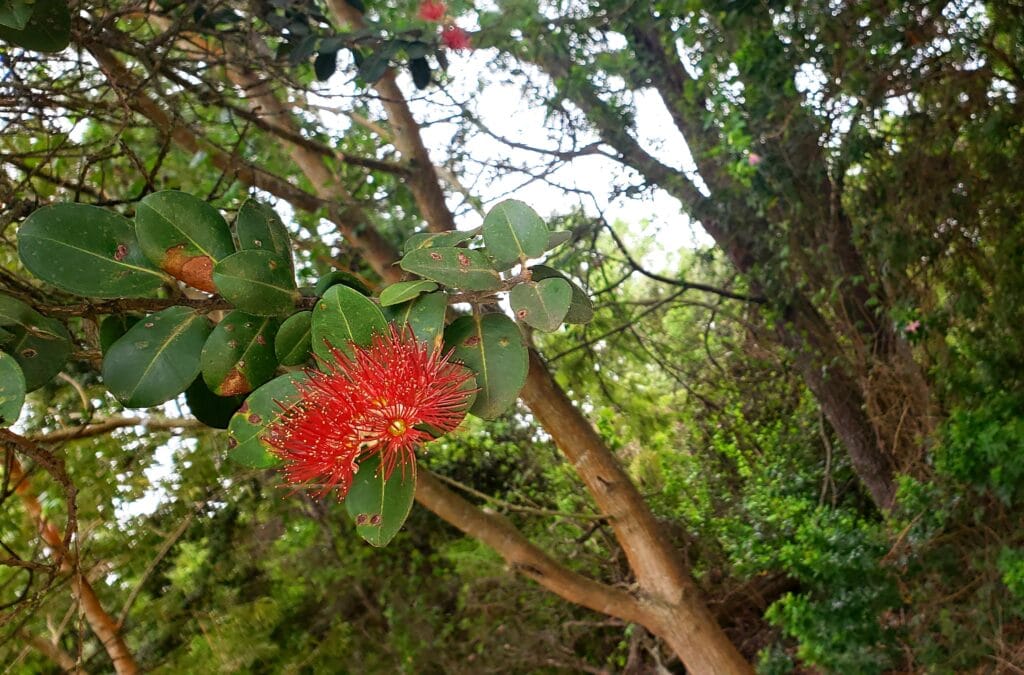 Protecting the precious ʻōhiʻa lehua
ROD continues to ravage ʻōhiʻa across Hawai'i by clogging the trees' vascular systems, depriving the canopies of water. And while there is no cure for ROD yet, there is much that can be done to protect Hawai'i's healthy ōhiʻa and restore areas that have been hit by the disease.
Avoid injuring ʻōhiʻa. Broken branches, stripped bark, and other open wounds on ʻōhiʻa are entry points for the microscopic fungal pathogens.
Don't transport ʻōhiʻa interisland, or move the branches or wood of ʻōhiʻa, especially from areas where ROD has been reported. 
The fungal disease can remain alive and infectious in soil, so wash all dirt and mud off your vehicle's tires and undercarriage after driving near or in ʻōhiʻa forests.   
ROD can also spread from tree to tree on machetes or other tools. So always clean your hiking gear or other tools before and after entering forests.
Before and after a hike, clean off all dirt from your clothes and spray the soles of your hiking boots or shoes with 70% rubbing alcohol. When you get back to your vacation rental, wash your clothes in hot water.
Our historic cottages are conveniently located in Volcano Village, just minutes away from the entrance to Hawai'i Volcanoes National Park and an hour's drive from the park's Kahuku Unit, where you can find the ʻōhiʻa lehua and its pom-pom of fiery red flowers embellishing the landscape. As you stroll past our precious ōhiʻa and its tropical avian residents, you'll see why we're so passionate about protecting a tree that truly epitomizes Hawaiʻi.