April 16th through the 24th is National Park Week and we might be biased, but our favorite park to visit during this celebration is Hawai'i Volcanoes National Park. National Park Week is the perfect time to plan a trip to the park, explore nature, and discover stories of Hawai'i Island's culture. Throughout the week, Hawai'i Volcanoes National Park will present an array of special events and programs for everyone to enjoy, no matter what your age. 
The Birth of National Park Week
Established in 1916, Hawai'i National Park initially consisted of Hawai'i Island's volcanoes, Kīlauea and Mauna Loa, as well as Maui's volcano, Haleakalā. In 1961, Haleakalā became her own National Park and our park was given its current name, Hawaiʻi Volcanoes National Park.
In 1991, the very first National Park Week was held in celebration of the National Park Service's 75th anniversary. Since then, this celebration has been held every year and Hawaiʻi Volcanoes National Park has participated in this fun and educational week of programs and activities.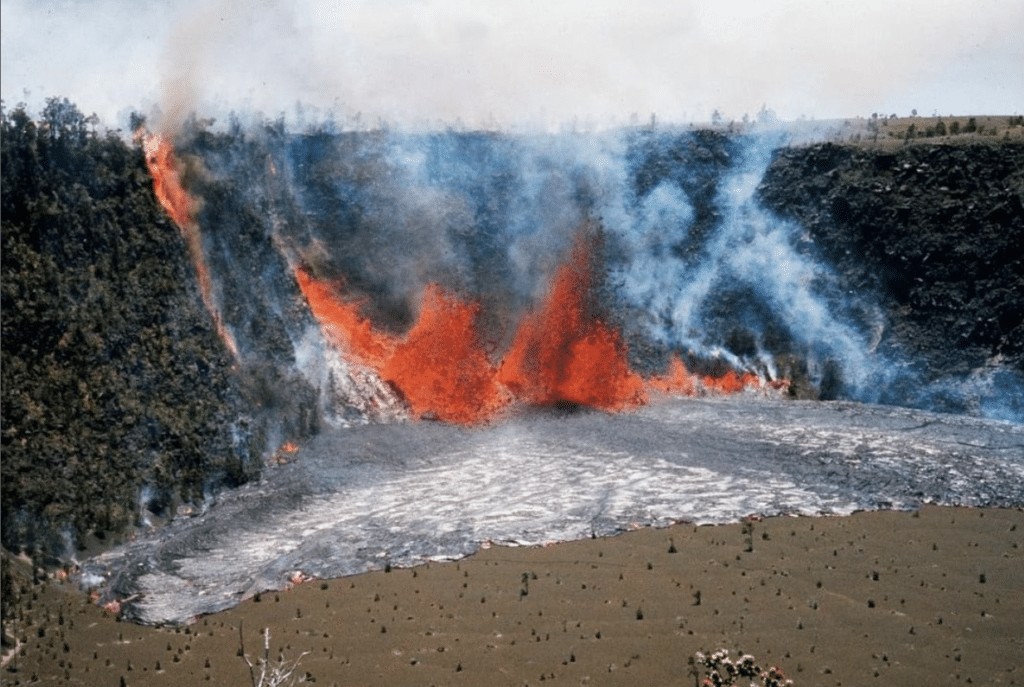 Visit Hawaiʻi Volcanoes National Park to Celebrate National Park Week
The park is home to some of the rarest plants on the planet, such as ʻahinahina (Kaʻū silversword). Once thought to be extinct, ʻahinahina is fortunately recovering in the Kahuku Unit's upper area and on Mauna Loa's slopes.
And of course, Hawaiʻi Volcanoes National Park is home to the most active volcano in the world, Kīlauea. Within the Kīlauea Caldera at Kīlauea's summit, you'll find the pit crater, Halemaʻumaʻu. If you're visiting the park, seeing the active lava lake within the Halemaʻumaʻu crater should be at the top of your itinerary.
For the best view of Halemaʻumaʻu's lava, take Old Crater Rim Drive Trail from the Devastation Trail parking lot to the eruption viewing area near Keanakākoʻi crater. Keanakākoʻi means "cave of the adzes," and was most likely formed during the Kīlauea collapses of the late 1400s.
Until 1877, kahuna kākoʻi (carving experts) made koʻi (adze heads) from the dense basaltic rock found in the crater. Koʻi was a valuable tool used to carve houses, canoes, and other objects essential to the ancient Hawaiians. In 1877 and again in 1974, an eruption covered the quarry of adze, rendering the crater shallow at only 115 feet deep.
It's a moderate 2.5-mile round trip hike to the Keanakākoʻi crater and it's well worth the effort! If the Devastation Trail parking lot is full, be aware that you'll have to hike an extra 0.5 miles each way from Puʻupuaʻi.
More Helpful Tips
Since Hawaiʻi Volcanoes National Park is open 24 hours a day, you can gaze at the breathtaking views of the lava lake in the morning's gentle light, or at night, when the lava lake glows red against the lava black night sky. National Park Week is sure to draw a crowd, especially on the 16th, so visitors should plan to get to the park early.
It can get chilly at Kīlauea's 4,000-foot summit, not to mention that it can be raining one minute and sunny the next in Hawai'i Volcanoes National Park. Before visiting the park, be sure you have the right gear for any kind of weather. Check out our blog about packing for your visit for more helpful tips, including carrying a small pack that can hold a bottle of water, a snack, a rain jacket, and a hat to keep the rain and sun out of your eyes.
Tutu's Tips: We do NOT suggest hiking in the park in anything but trail running shoes or light hiking boots, for your own safety! Speaking of your safety, always stay on the trail and keep your distance from ground cracks and unstable cliff edges. And any closures marked by rope lines or hazard signs are there to protect you from potentially lethal volcanic fumes, sudden and unpredictable rim collapses, and much more. Please do not go into closed areas!
If you want to stay near all that Hawai'i Volcanoes National Park has to offer, during National Park Week and all year long, you really can't get much closer than the Volcano Heritage Cottages. Located in the heart of Volcano Village, Hawai'i, our cottages are only five minutes from the park, so book your stay at Tutu's Place or the Ola'a House today!