What comes to mind when you think of the month of March? St. Patrick's Day? If you're lucky enough to be in Hawai'i this month, you'll find that March means celebrating Prince Kūhiō!
Every year, on or around March 26th, we honor the life and contributions of Prince Jonah Kūhiō Kalanianaʻole. Endeared as the Prince of the People, Kūhiō was born on Kauai's south shore, on March 26, 1871, to High Chief David Kahalepouli Pi'ikoi and Princess Kinoiki Kekaulike, the youngest daughter of the last King of Kaua'i, Kaumuali'i. In 1884, Kūhiō was named heir to the throne of the Kingdom of Hawaiʻi and Prince of the House of Kalākaua by his maternal aunt, Queen Lili'uokalani.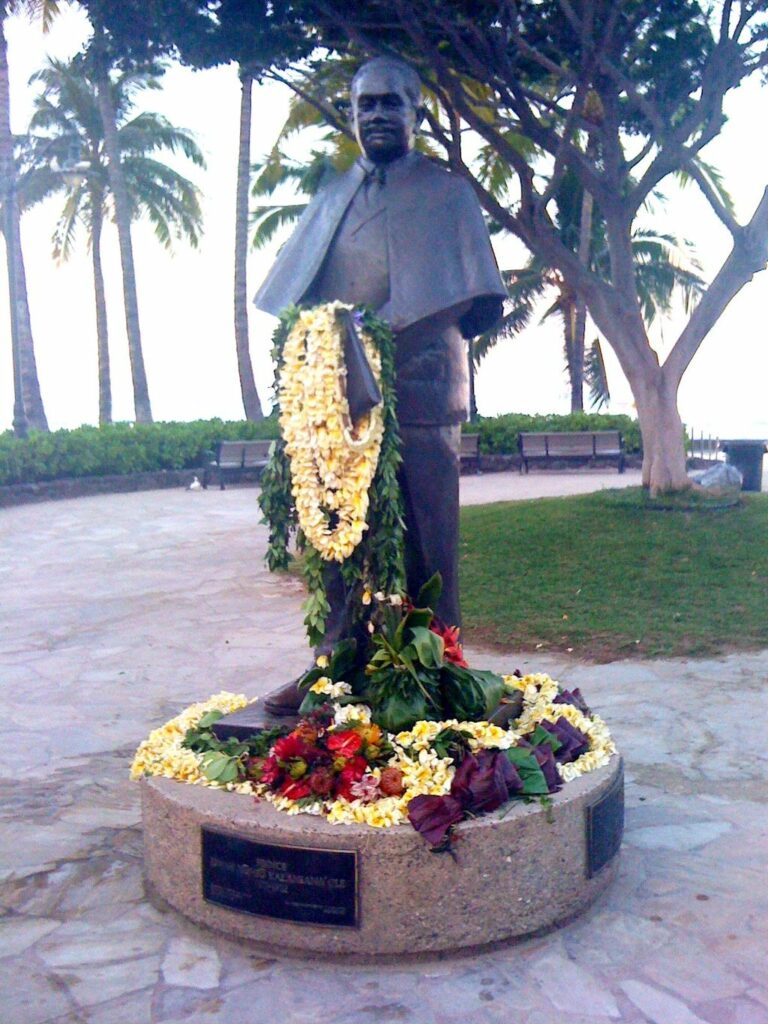 Serving Hawai'i
Prince Kūhiō's early education was at St. Alban's College, known today as Honolulu's 'Iolani School, as well as at O'ahu College. The school's name was later changed to Punahou School and may sound familiar, as President Obama also attended the school.
Prince Kūhiō also spent four years at St. Matthew's Hall Military College in San Mateo, California. During his time there, Prince Kūhiō and his brothers introduced surfing to the Golden State. When he wasn't surfing, Prince Kūhiō practiced the Hawaiian martial art of "Lua." He was also an enthusiastic horseman and an impressive marksman.
In 1893, a coalition of European and American businessmen attempted to overthrow the Hawaiian Kingdom Government. In response, Prince Kūhiō joined the revolution to restore the monarchy. Like many of the revolutionaries, Prince Kūhiō was arrested, convicted of treason, and imprisoned. After a year, he was released when Queen Lili'uokalani signed a formal abdication of her throne in exchange for the pardon of her supporters.
After his release, Prince Kūhiō married Chiefess Elizabeth Kahanu Ka'auwai and the young couple left Hawai'i, eventually landing in Africa. It was here that Prince Kūhiō fought in the Second Boer War on the side of the British Army.
In 1901, Prince Kūhiō was urged to return to Hawai'i. Although no longer empowered to help the Hawaiian people from a position of royalty, Prince Kūhiō was determined to serve the islands. In 1902, he ran for delegate to Congress and won, representing the state of Hawai' for the next 20 years as a non-voting delegate to the House of Representatives. Prince Kūhiō also re-established the Royal Order of Kamehameha I in 1903 and served as Ali'i 'Ai Moku until his death.
Advocating for All That's Pono
Knowing the powerful ripple effect set in motion by doing what's pono (what's right and good), Prince Kūhiō founded the first Hawaiian Civic Club. Together with suffragist Almira Hollander Pitman, he advocated for the passing of the women's suffrage bill as well. In 1919, Prince Kūhiō introduced the first-ever Hawai'i Statehood Act, and although he wouldn't see it in his lifetime, Hawai'i became the 50th state in 1959.
Despite Prince Kūhiō's lack of a vote in Congress, he was able to influence the passing of a bill to return native Hawaiians to the land, while encouraging them to become self-sufficient ranchers, farmers, and homesteaders on 200,000 acres of land. Known as the Hawaiian Homes Commission Act, the bill was passed in 1921.
During his tenure, Prince Kūhiō also focused on building the Hilo wharf, establishing Hawai'i Volcanoes National Park and Kilauea National Park, and constructing a hospital at the Kalaupapa Settlement for lepers.
Celebrating Prince Kūhiō Day
On January 7, 1922, Prince Kūhiō passed away, leaving behind a legacy as the People's Prince who fought for justice. To mark his birth, a holiday was created by the legislature of the Territory of Hawai'i in 1949. Today, Prince Kūhiō Day is an official state holiday. Observed in Hawai'i on or around March 26, it's a day to honor the life of Prince Jonah Kūhiō Kalaniana'ole and his efforts to strengthen and preserve the people of Hawai'i.
Prior to the pandemic, many people celebrated Prince Kūhiō Day all month long with parades and festivals. Some festivals included cultural demonstrations, luaus, and canoe races.
If you happen to be in Volcano, Hawai'i on March 26th, you'll find us celebrating both Prince Kūhiō and our very own Albert Jeyte, who shares the prince's birthday! As you can imagine, it really is one of our favorite days of the year! Although it's unclear when statewide celebrations will resume, we can still honor Prince Kūhiō's memory by appreciating his contributions, from the Hilo wharf to Hawai'i Volcanoes National Park. And you can't get much closer to the park than Tutu's Place or the Ola'a House. Book a stay today!