Have you ever seen a koholā blow spouts in the salty air or use its tail fin to launch itself magnificently out of the water? Koholā is the Hawaiian word for humpback whale, and if you're visiting the Big Island in January or February, you're in for a big treat – That just so happens to be the peak of the koholā's migration from Alaska!
In native Hawaiian culture, the koholā represent Kanaloa, the god of ocean creatures. The divine koholā are annual visitors to the Hawaiian Islands. And we've got some fun information on these gentle giants, as well as some helpful tips for seeing the humpback whales while visiting Hawai'i Island!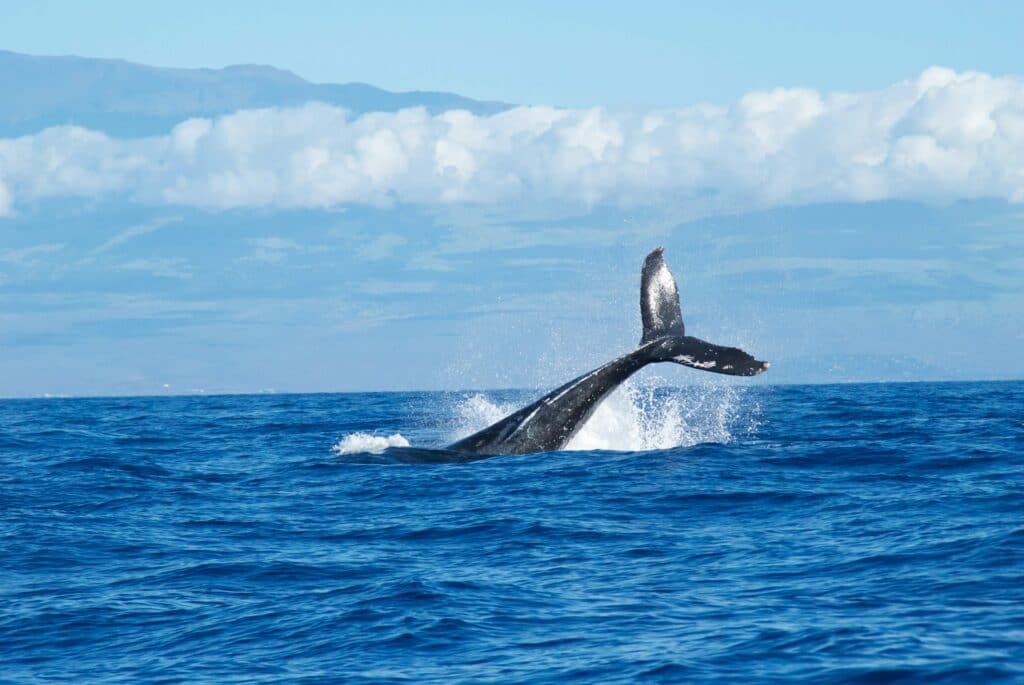 The Koholā's Long Journey
Every year, about 12,000 North Pacific humpback whales spend six to eight weeks making a non-stop migration from Alaska to the chain of islands. After a 6,000 mile journey (one of the longest migrations of any mammal), the whales arrive in Hawai'i around mid-December.
They're not here for a Christmas holiday, but for a season of mating, birthing their calves, and nursing the newborns until sometime in May. Weighing in at around 40-ton, catching a glimpse of the 40-foot long koholā and their keiki playing, surfacing, and slapping their tails against the ocean waves should be on everyone's bucket list!
Ready to see the humpback whales off the shores of Hawai'i Island? You've got a few options!
You can visit a spot that the whales are known to frequent or take a whale watching tour with a local charter company or dive shop.
Where to Watch the Whales When Visiting Volcano
Casually called Green Sand Beach or Mahana Beach, Papakōlea Beach is located in Na'alehu, HI, only about 50 miles from Volcano, HI. And we've seen whales breach less than a mile offshore while hiking to this beach.
Not up for the hike? Grab some sweet treats at Punalu'u Bakery, drive to the end of South Point Road, and park at the southernmost point in the United States (also known as Ka Lae). You'll likely see a mist from our beloved koholā before you finish your malasada!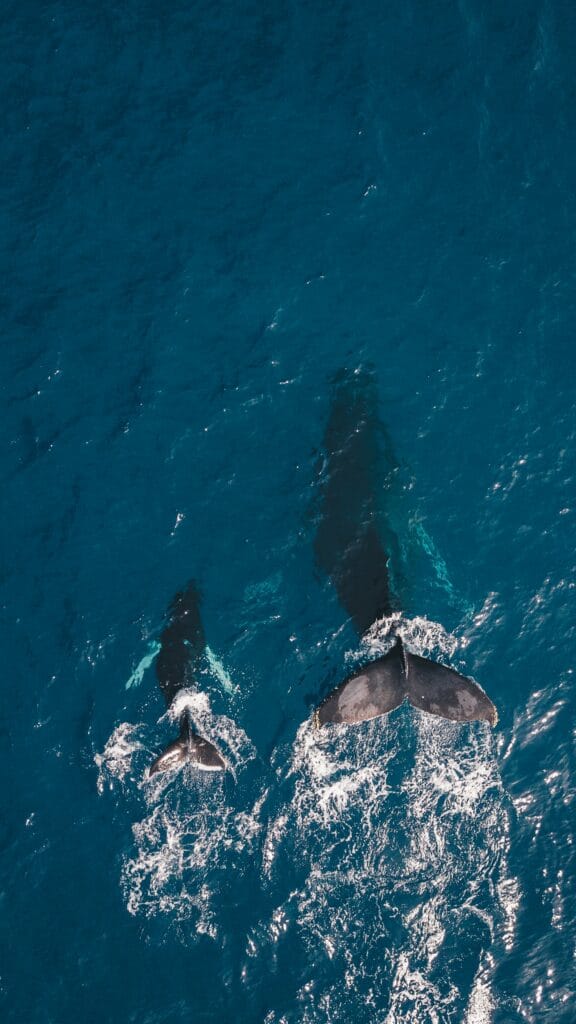 Tutu's Tip:
There is nothing quite like spotting a humpback whale or hearing the whale's song while swimming in Na'alehu or Hilo. But don't ever swim after or touch a whale, or any other marine mammal for that matter. Not only is it illegal, but it's incredibly dangerous… Especially if you're sharing the water with a 40-ton, new mom!
Hilo Bay is a mere 27 miles from Volcano and another popular place for whale watching on Hawaii's east side. One of the longest beaches on the island, Hilo Bay's Beachfront Park is also an excellent spot for having a picnic, fishing, surfing, and canoeing. Much of Hilo Bay is a protected area, so if you paddle out past the first few meters, you may see some honu (sea turtles) and other marine wildlife, in addition to spotting a whale!
Instead of watching the koholā from shore, you can schedule a whale watching tour and let an ocean-guided boat take you out on the water and to the best locations for spotting whales nursing, playing, and spouting. Keep in mind that boats are restricted from getting within 100 yards of whales – This is for your safety and the koholā!
Other species of whales are attracted to Hawaii's warm, shallow waters year round, so no matter when you visit Hawai'i Island, it's a good idea to keep your eyes peeled for these majestic sea mammals. Like visiting the volcano and so many other Big Island adventures, whale watching is a once in a lifetime experience not to be missed! Ready to plan your next Hawai'i Island adventure? Make Volcano, HI your homebase and book a stay at one of our comfortable, charming cottages today!