Imagine sipping a fruit-forward, medium-bodied Pinot Noir with a smoky oak finish while gazing out at row upon row of plump grapes. Now imagine that you're enjoying your subtle yet complex glass of wine after your walk through a tropical rainforest!
This doesn't sound like any vineyard in Italy or California – And that's because you're at Volcano Winery on Hawai'i Island! Pleasantly surprised? Most visitors to Volcano, HI are!
One of only three commercial wineries in the state of Hawai'i, Volcano Winery is the southernmost winery in the United States and it has a history as rich as the soil its grapevines are grown in!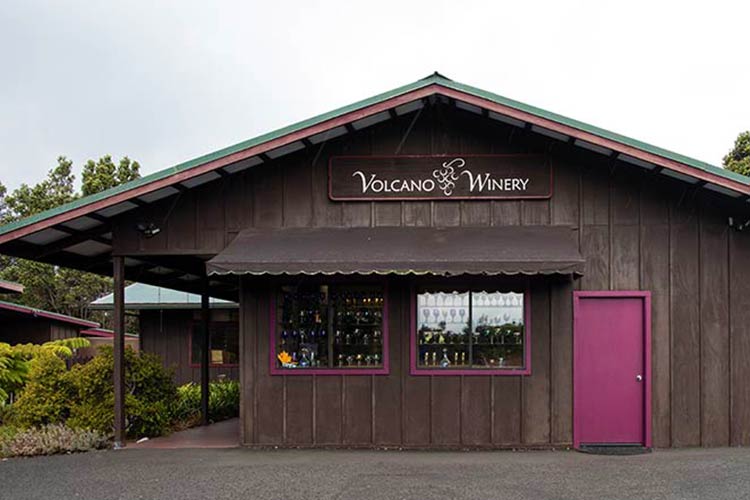 A Rich History
In 1986, retired veterinarian Lynn "Doc" McKinney decided to start a vineyard. Knowing that at 4000 feet above sea level, Volcano and its land of lava would be the ideal location, Doc began by planting 20 Symphony grapevines. The vines thrived, prompting Doc to plant 14 acres of Symphony grapes.
In between tending to his vines, Doc began making wine with local honey. He also experimented with blending lilikoi, starfruit, and papaya with his grapes. In fact, the BATF determined that his fruit-blended wines were unique enough to earn their own category!
By 1993, Volcano Winery was open for business, dazzling guests with offerings of wines produced from the Symphony grape, honey wines, and wines made with a blend of grapes and jaboticaba. Oenophile Del Botho bought the winery from Doc in 1999, and it has been a family-owned business ever since.
Wine Tasting in Paradise
For a unique twist on your visit to Volcanoes National Park, pair your hike with a wine tasting at Volcano Winery, which is a mere five minutes away. After spending your morning in the park, take your lunch break at the winery and enjoy a glass of Hawaiian Guava-Grape or Estate Pinot Noir with a delicious cheese plate. Made onsite, there are several cheese plates to pick from, like the savory artichoke parmesan!
At Volcano Winery, the atmosphere is relaxed and the aloha is strong. With its laid-back vibe, you can come in for wine tasting as you are, hiking boots and all! Or enjoy a bottle of volcanic fire-inspired local wines enhanced by Hawai'i's abundance while lounging around a firepit on the winery grounds.
Symphony is still the main grape used, although Pinot Noir and a Burgundy red are imported for some of the Signature wines, and fermented and blended on-site. Most of the winery's selections are blends that include tropical fruit, locally sourced. Of Volcano Winery's eight wines, three are standard dryer wine, the other five range from semisweet to Mead, and all are uniquely flavorful.
In an effort to support other local businesses and Hawai'i farmers, the winery uses the exotic, native jaboticaba berries in their Signature Volcano Red wine. And the Macadamia Nut Honey Wine is crafted with honey harvested from the hives of local bees that forage on 'ohi'a and macadamia nut tree nectar flows.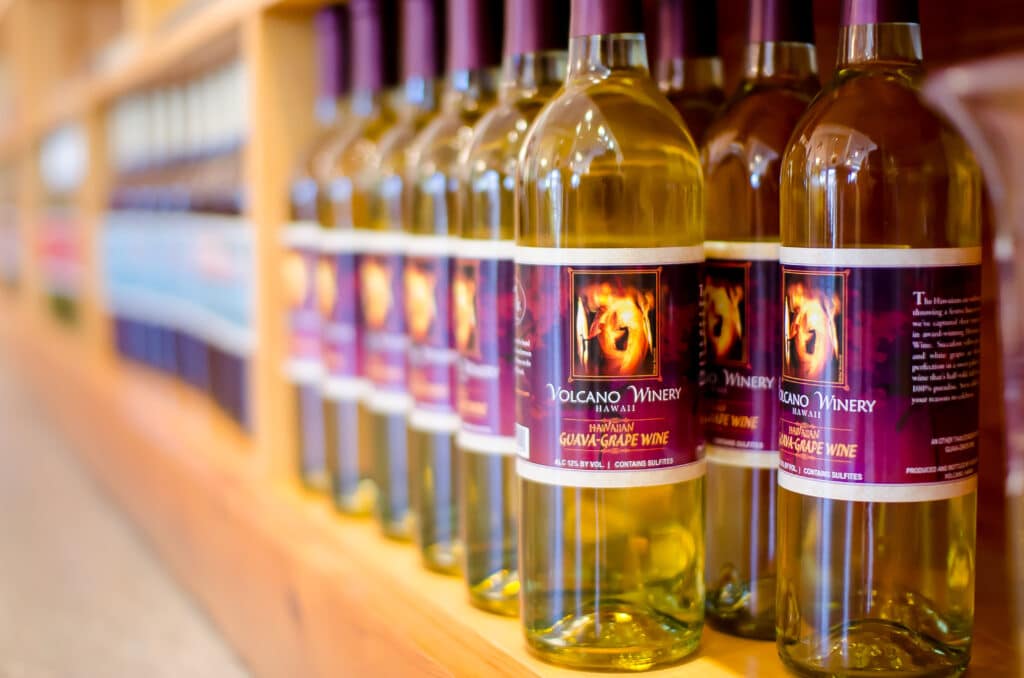 Making Memories, One Sip at a Time
Ready to taste all Volcano Winery's selections? Wine tastings are available daily from 10am to 5:30pm, and the winery's tasting menu currently includes a Premium Flight of Symphony Dry, Pinot Noir, Volcano Red, Symphony Mele, Volcano Blush, Hawaiian Guava-Grape, Macadamia Nut Honey Wine, and Infusion Tea Wine.
The chance to sip eight wines in one tasting is as unique as the Volcano Winery's blends themselves! It's also rare for the winery to have a slow day, so we recommend you make a reservation if you're interested in a tasting.
If not, you can always pick up a bottle or two and enjoy them back at Tutu's Place or the Ola'a House. Volcano Winery is easily accessible from our Volcano Heritage Cottages, so book a stay today and ease into the weekend with some liquid aloha!