In ancient Hawai'i, private property did not exist. The Hawaiians did, however, follow a land division system involving the ahupua'a.
Within the kingdom of Hawai'i were 6 moku (traditional districts): Ka'u, Kona, Kohala, Hamakua, Hilo, and Puna (home to Volcano Heritage Cottages)! Each moku was ruled by an ali`i or chief who subdivided the land into wedge-shaped sections called ahupua'a.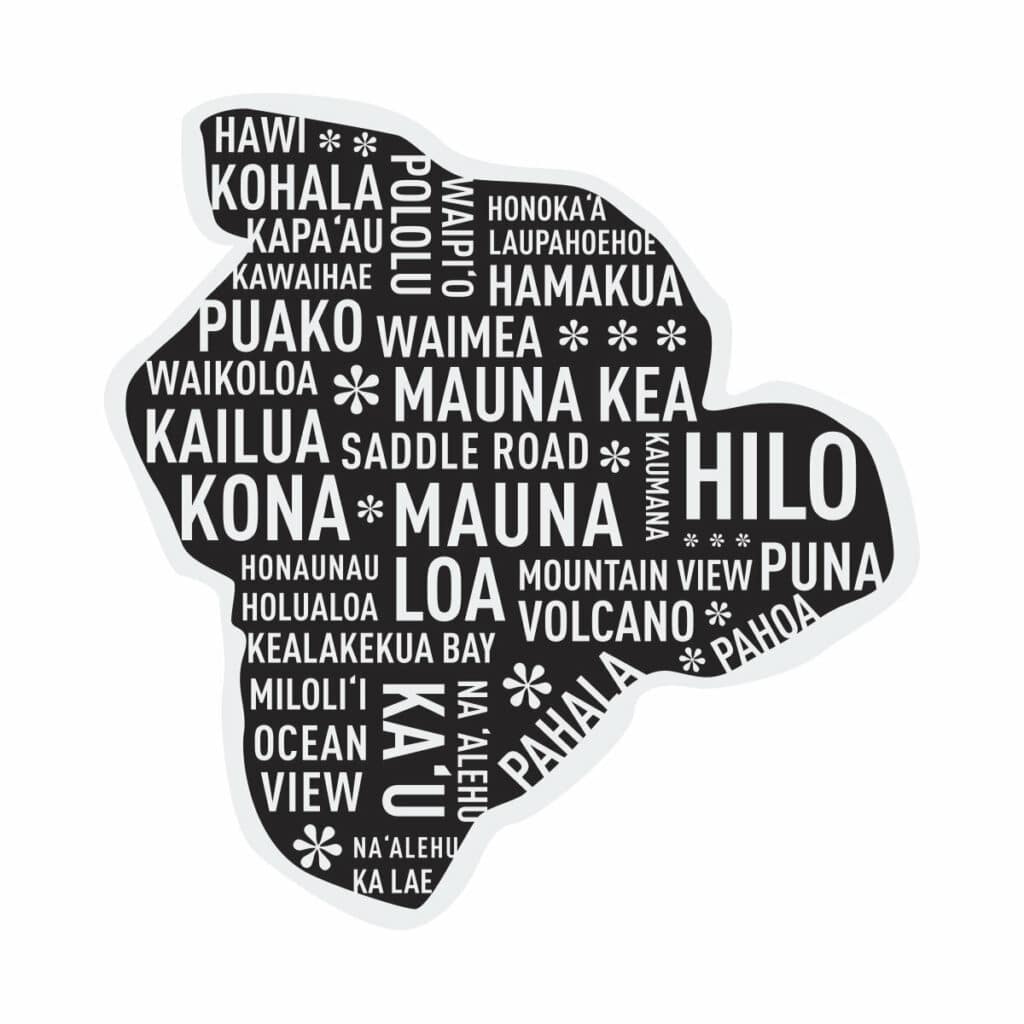 Think of an ahupua'a like a slice of pie that follows the natural boundaries of the watershed, and runs from the top of a mountain down to the ocean. Each ahupua'a was essentially a self-sustaining unit containing all the resources that an entire community could need. This included sea salt, fish, land for farming kalo (taro) or sweet potato, koa, and other trees grown in the uplands. Those who lived on the coast would trade with those living up mauka (the mountain), bartering their fish and other goods for wood to build homes and canoes.
Ahupua'a varied in size, depending on an area's resources. If a region was lacking in resources, the ahupua'a would be larger. By splitting the land in this manner, compensation was made for any lack in natural resources.
In life's daily and seasonal activities, the ahupua'a embodied the traditional Hawaiian belief in the symbiotic relationship between the natural elements and living creatures. The balance of the ahupua'a did more than help the Hawaiian people survive. Working with nature's rhythms, the ancient Hawaiians shared knowledge and resources up and down the land, enjoying abundance, as well as time for art and recreation during Makahiki (the harvest season).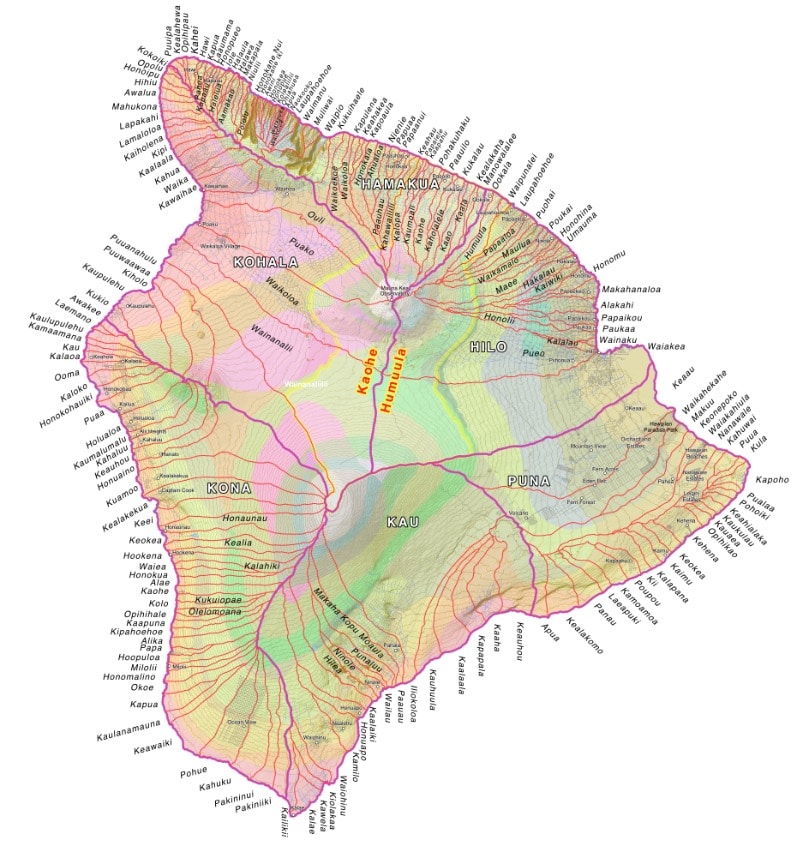 The remarkably peaceful revolution which transpired in 1848 during Kamehameha III's reign changed this land tenure system. The 6 moku eventually became the foundation for the 9 districts of Hawai'i Island: Ka'u, South Kona, North Kona, South Kohala, North Kohala, Hamakua, North Hilo, South Hilo, and Puna.
The ancient ahupua'a remain largely unchanged to this day. For political reasons and convenience, however, the modern district boundaries don't always conform to the ahupua'a boundaries.
Let's look at the 9 districts that exist today and what makes each one unique, ultimately contributing to the diverse beauty that Hawai'i Island is known for!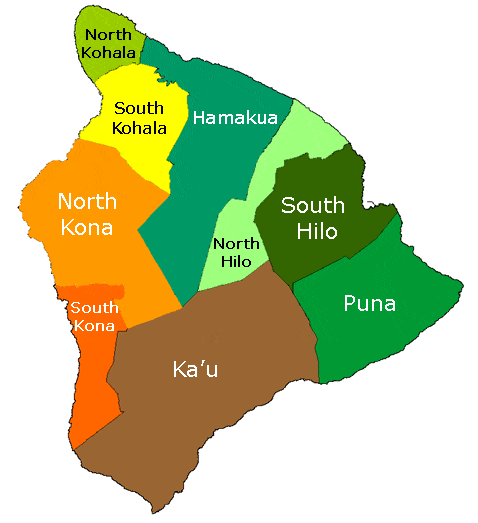 Ka'u
Believe it or not, there's more to Hawai'i Volcano National Park than the Kīlauea Volcano. Visit the park's Kahuku Unit in the district of Ka'u and wander through a grassy expanse of rolling hills and ōhiʻa-fringed trails. On your way from Volcano Villages to the Kahuku Unit, stop at Punalu'u Bakery to grab a takeout sandwich and a delicious malasada to enjoy a picnic in the park.
If a relaxing beach day is more your style, you'll find a palm-lined, black sand beach at Punalu'u Black Sand Beach, where you can snorkel or just savor your treats from the bakery while gazing at the ocean. And you definitely don't want to miss Papakōlea Beach, which is one of only two green sand beaches found in the U.S. You can easily reach this unique expanse of green sand by hiking down from the top of a cinder cone to the sparkling green sand below!
South Kona
South Kona boasts Pu'uhonua o Honaunau (the Place of Refuge) and Kealakekua Bay, which is where explorer Captain James Cook made the first recorded European contact with the Big Island… and later met his death, which is marked by the Captain Cook Monument. And there's nothing quite like the smell of roasting coffee that drifts on the air as you drive through the laid-back towns of Holualoa and Kealakekua. Visit one of the many cafes or family-owned coffee farms that offer roasting demonstrations, fresh beans, and coffee samples and see for yourself why Kona coffee is legendary!
North Kona
Site of the renowned Ironman triathlon, Kailua Village is the heartbeat of North Kona. Here you'll find many resorts, shops, and seaside dining options that offer memorable views of Kona's dazzling sunsets. North of the village is Kaloko-Honokōhau National Historical Park, as well as Manini'owali Beach (Kua Bay) with its secluded white sand beach and crystal blue waves.
South Kohala
North of Kona is South Kohala's Anaeho'omalu Bay, which arguably has one of the most postcard-perfect beaches around. Surrounding the bay are several fishponds, tide pools, and a coconut palm grove. Coastal South Kohala is also home to Kauna'oa Beach, site of the Mauna Kea Beach Hotel, the first luxury resort in Hawai'i. And further inland is the historic Waimea, home to paniolo (Hawaiian cowboys), rolling green hills, cattle ranches, and more.
North Kohala
Located in North Kohala, the Kohala Historical Sites State Monument is both culturally and historically significant to the Hawaiians. Here you can visit 2 important historical sites, Mo'okini Heiau and Kamehameha the Great's birthplace, by heading down the one-way road to the Upolu airstrip. The drive itself is worth it, as you'll experience the rugged cliffs, pouding waves, and impressive windmill farms along the way.
Hamakua
Located on the northeast shore, the Hamakua Coast is renowned for its tropical rainforests, lush green valleys, and breathtaking vistas at the Waipio Valley Lookout. Tour the Hawai'i Tropical Bioreserve and Garden, a botanical garden and nature preserve with over 2,000 species of tropical plants, trees, flowers, a serene palm jungle, and the loveLY, three-tiered Onomea Falls. If you still haven't gotten your fill of waterfalls, take in the cascading wonder of both Kahuna Falls and Akaka Falls off of Highway 220.
North Hilo
If you visit North Hilo on Wednesday or Saturday, then the Hilo Farmers Market is the place to be. Find fresh Hawaiian fruits and vegetables, tropical flowers, handmade jewelry, and more at this festive, outdoor market. Then quench your thirst with a tall, refreshing glass of beer at aloha-inspired Hilo Brewing Company or Ola Brew's taproom. Explore the fishponds, pagodas, and rock gardens at the largest authentic ornamental Japanese garden outside of Japan, the Liliuokalani Park and Garden. Or head a little further North and you'll find remarkable treasures from days gone by while learning about how sugar plantations shaped our island at the Hawai'i Plantation Museum.
South Hilo
South Hilo is home to Rainbow Falls, as well as some serious seasonal surf at Honolii Beach Park. Snorkeling more your style? The coves and natural ponds at Leleiwi Beach Park are home to tropical fish and honu (sea turtles), making it a popular snorkeling spot. The smooth ocean bottom and lava rocks at Carlsmith Beach Park form a calm, protected area that we love to visit for a dip, while the shallow bay of Richardson Ocean Center boasts tide pools and spring-fed water perfect for families with children who want to swim and snorkel in a spot free of currents.
Puna
The district of Puna's biggest attraction is undoubtedly Hawaii Volcanoes National Park and its active volcano, Kīlauea. From the park's Crater Rim Drive you'll see steam vents on your way to the Halema'uma'u Crater overlook, where you'll be astounded by the glow of the lava lake. Nearby is the Volcano Art Center, which operates a thriving fine arts gallery showcasing the handcrafted artwork of more than 230 local artists.
The eccentric district of Puna also includes miles of roads winding along the rural coastline and through vibrant rainforests. From visiting the shops on Pāhoa's main street to driving the famed Red Road, this colorful corner of the Big Island is worlds' away from ordinary.
Whether you want to explore Puna, experience North Kohala, or enjoy all the sights in between, we invite you to make Volcano Heritage Cottages homebase for all your Big Island adventures. Book a stay at Tutu's Place or the Ola'a House in Volcano, Hawai'i today!